Written by Amukelani Chauke
Government is on top of the challenges facing the country and is developing as well as implementing plans to address these.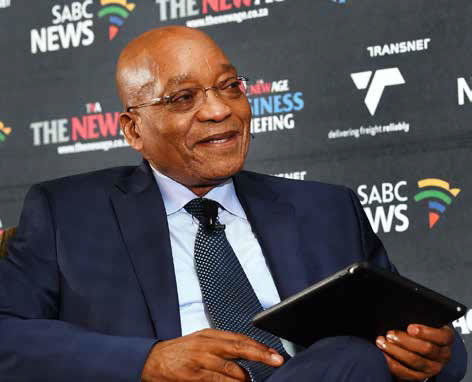 That's the assurance President Jacob Zuma gave South Africans when he responded to the questions during The New Age briefing a day after delivering his State of the Nation Address (SoNA).
From the energy challenges, attacks on foreign-owned shops to violent protests, the President tackled some the pressing issues the country has to deal with.
He said government would embark on a fact-finding mission to understand why power stations had gone for long periods without being serviced.
The President noted that South Africa's consumption demand had increased after 1994, as government has had to connect millions of citizens to the grid.
This, he said, means maintenance of the grid must be a priority.
"The demand has rocketed after 1994 and therefore undermined the capacity that we have and that is what we are dealing with.
"I can't understand why we should have power stations that are not serviced. You can't have one power station failing after the other, and that is what I am going to look into as President," he said.
A day earlier, the President revealed short, medium and long-term plans to deal with the energy challenges.
As part of the short-term measures, R23 billion was allocated to Eskom to stabilise its finances.
While calling on citizens to use electricity sparingly, and encouraging individuals and households to switch to gas, the President also announced that government would pursue alternative energy sources and detailed a comprehensive energy procurement plan. Addressing the briefing, he stressed that there was no crisis with regards to electricity.
"We have got a plan. We have a challenge and we have got a solution. If you have a solution to deal with the problem, then you don't have a crisis."
Uniting Africans
President Zuma said the recent attacks on foreign-owned shops were regrettable, and that while South Africa was generally not an intolerant country, more needed to be done to unite Africans.
"We can't have a situation where people have an attitude towards other Africans.
"I think we need to do more to educate people that we are one people on the continent; we are just divided by borders. It is a matter that needs political understanding, tolerance," he said.
Proposals to deal with these challenges and foster social cohesion were in the pipeline, the President added.
Dealing with protests
With regards to the spate of violent protests in which state property was destroyed, the President said it might be an indication that people had not have dealt with the trauma of apartheid.
"We had, unlike many other countries, a system in the country which was very racist and became very violent. That provoked counter violence - when you had a problem with authority, you would destroy and burn. We need to find a way to say authority is no longer an enemy.
"We have agreed with the religious leaders that we will meet and come up with proposals to deal with issue. People have not dealt with the psychological trauma of [apartheid]," he said.
Foreign ownership of land
One of the major announcements by the President during his SoNA was that government would propose a new law that would disallow foreign nationals to own land in South Africa.
He said the Regulation of Land Holdings Bill would be submitted to Parliament during the course of the year.
"In terms of our new proposed laws, a ceiling of land ownership will be set at a maximum of 12 000 hectares.
"Foreign nationals will not be allowed to own land in South Africa but will be eligible for long term lease," he explained.
In an interview with the SABC, the President said the proposal was "fair" and protected the interests of locals who would want to own property.
He added that government could also not sit by and watch until it ended up with a situation where most of the country's land was the ownership of those living abroad.
"I think we are taking a very fair decision to say if you are coming for business, you need land, we lease it. You can get a lease for no matter how long. I think that is fair.
"To buy it and make it your property when a good percentage of your South African cities have got no land, I think it will be very difficult to justify when people say we don't own land and part of our country is being owned by people out there.
"We now know that people come and buy the best part of the land. So the local people are not going to have an opportunity enjoy and do business in their own country because it has been bought. Where will you stop? You might end up with three quarters of the land in South Africa being owned by the people out there and we end up paying rent to them," he said.