Correctional service facilities, mineworkers, and communities will receive special attention in the fight against Tuberculosis (TB).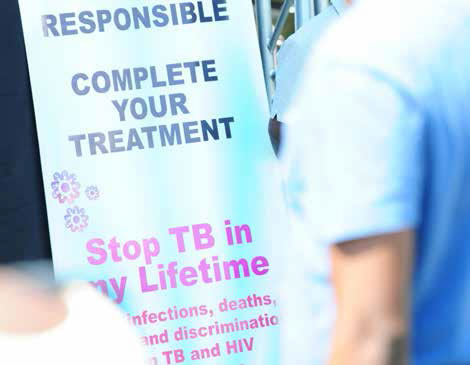 This was revealed by Minister of Health Dr Aaron Motsoaledi during the Social Sector Cluster media briefing held recently.
Minister Motsoaledi noted that TB kills 80 per cent of HIV positive people. He said his department would roll out a massive TB screening programme, which would be similar to the HIV counselling and testing campaign rolled out in 2010 that resulted in 20 million people being tested.
He added that six mining districts would also receive a special focus during this campaign - Lejweleputswa in the Free State, the Kenneth Kaunda and Bojanala districts in the North West, Carletonville in Gauteng and Waterberg and Sekhukhune District in Limpopo.
"In all those districts, every single human being will have to be screened as a part of this programme. We will screen kids at school, mineworkers and communities. Anyone visiting a health facility for anything will be asked to subject themselves to be screened for TB," he said.
"We want this programme to be massive."
During the State of the Nation Address, President Jacob Zuma said while a lot of attention had been dedicated to the fight against HIV/Aids, TB remained one of the major killers in South Africa.
Adding to this, Social Development Minister Bathabile Dlamini, who is also the chairperson of the Social Sector Cluster said Statistician-General Pali Lehohla announced last year that TB was the underlying cause of death to 40 542 people.
"In response, we have mobilised more resources both from within government and donors in order to turn the tide on new TB infections," said Minister Dlamini.
Improving health care facilities
The cluster will focus on the implementation of Operation Phakisa for Ideal Clinics launched in November last year.
"Currently 10 clinics are enrolled and by the end of the current financial year, we would have enrolled a third of 3 500 clinics in the public sector.
"Our people will experience first-class treatment in first-class health facilities and this process will roll out over the next three years to cover all public health clinics."
Minister Dlamini also gave an update on the mobile phone service called MomConnect launched last year, which helps pregnant mothers have healthy pregnancies, safe deliveries and healthy babies.
"We have connected over 250 000 pregnant women to the programme."
The Social Sector Cluster consists of the Departments of Cooperative Governance and Traditional Affairs, Water and Sanitation, Human Settlements, Labour, Public Works, Rural Development and Land Reform, Transport, Arts and Culture, Basic Education, Health, Higher Education and Training, Labour, Science and Technology, and Sport and Recreation.