Pupils from schools across the country will now get the chance to step into the shoes of the South African Reserve Bank's (SARB) Monetary Policy Committee (MPC).
The pupils participated in the MPC Challenge, which is a school project being run by the Reserve Bank in Gauteng, Limpopo, Free State, Mpumalanga, Eastern Cape, Northern Cape and the North West.
It offers the opportunity for Grade 12 economics learners and their teachers to become "members" of the MPC for a few weeks. SARB runs the competition in partnership with the Department of Basic Education.
The MPC assesses the economic conditions as well as risks that affect economic growth.
At the actual MPC meetings, members analyse a considerable amount of economic information and then decide whether the repurchase, or repo rate, should go up, down or stay constant.
The repo rate is the rate at which the SARB lends money to com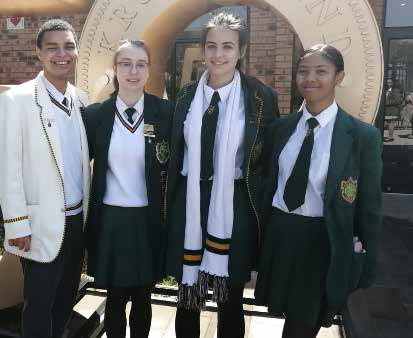 mercial banks in the event of any shortfall of funds.
Schools participating in the challenge are given the chance to step into the shoes of the MPC and, using the SARB's data, analyse and decide on what should happen to the repo rate.
During the competition, pupils from Hoerskool Linden in Johannesburg impressed the judges with their ability to analyse and understand the country's economy.
Elsjevon Briel, Timothy Schwartz, Paula Prinsloo and Tamé-Lee Beck were awarded second prize in the competition.
"The assessment made by us at the time and contained in the statement was that over the medium term the increasing petrol prices and electricity tariffs posed an upside risk to inflation. With that being said the sluggish demand in the economy would offset the above-mentioned cost pressures," said Schwartz.
Beck added that the competition showed them the impact inflation has on the economy.
She said that she also learned about "how purchasing power greatly affects growth or the decline thereof, along with other factors to South Africa that also affect the economy in some significant manner."
The pupils, who all are studying economics, said the prize money they had received from the competition would be put in to a savings account. Each of the second-placed pupils received R9 000 and the school received R16 000.
Basic Education Minister Angie Motshekga said the competition gives pupils the opportunity to practice a situation that they might encounter in their careers or personal lives, and enables learners to experience a different perspective and think creatively.
SARB Governor Lesetja Kganyago said the information students received from the competition would help them build a brighter future.
"What your parents might leave you in physical wealth you just might lose. Somebody might steal it, or perhaps it was invested in some financial asset whose price might crash, but the education you get stays in your head and no one can take it away from you," he told students.