Learners at Katlehong Engineering School of Specialisation in Ekurhuleni are being afforded an opportunity to acquire knowledge that will allow them to create jobs for themselves after completing Grade 12.
This is according to Gauteng Education MEC Panyaza Lesufi who recently unveiled the school, which will focus on transport, manufacturing and logistics.
Addressing learners, MEC Lesufi said the learners will be prepared for a life of entrepreneurship.
"You will now be taught things that will make you create jobs. We are empowering you with education that will turn the country around. Instead of being consumers, you are going to be manufacturers," said the MEC.
The technical school has partnered with Samsung, amon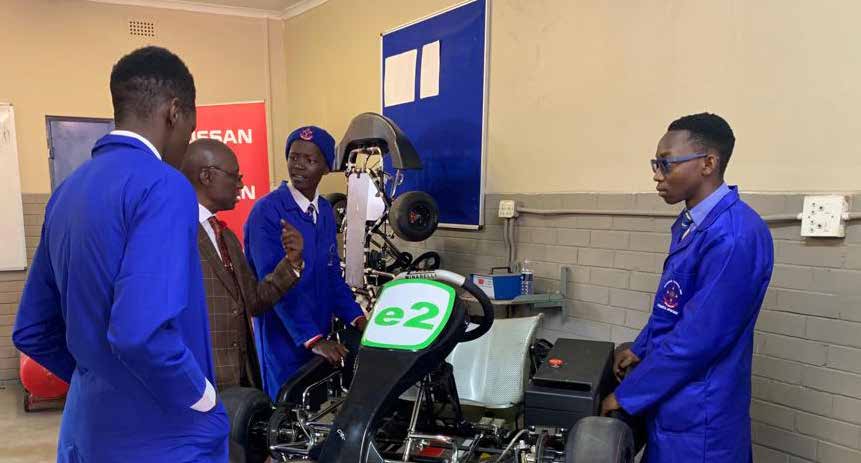 gst other companies. Samsung will take Grade 10-12 learners doing electrical technology to their academy in Midrand for additional training on a weekly basis.
The Manufacturing, Engineering and Related Services Sector Education and Training Authority will assist 20 learners from the school who pass mathematics, technical mathematics and physical science to obtain their motor technician qualification at Ford, Volkswagen, Audi, Toyota or Mazda.
The MEC said the department's partnership with the private sector has been fundamental in providing learners with workplace experience, learnership and artisanship opportunities, as well as entrepreneurial skills.
"Among other things, the companies we have partnered with will also support the school with training services and material.
"If we fail to change the education landscape, we will not succeed in empowering our children with the necessary skills to improve our economy," said Lesufi.
One of the Grade 12 learners at the school, Lungile Mabuza, said learners need to be taught the relevant skills to help the country produce industry experts.
"Having an education like this will enable us to become leaders who come up with solutions. The ball is now in our court to choose if we want to be counted amongst those who have the education and the skills for the Fourth Industrial Revolution," said Mabuza.
The school is one of eight schools of specialisation that the department has launched in the past three years with the aim of addressing the skills shortage and unemployment through public-private partnerships.
Lesufi said another 35 such schools would be built in Gauteng by 2022.
Ekurhuleni Executive Mayor Mzwandile Masina said the school is going to play a significant role in the development of the city and its youth.
Ekurhuleni is the manufacturing and logistics hub of the sub-Saharan economy. It contributes close to a quarter (23.3 percent) and close to a tenth (8.1 percent) to provincial and national Gross Domestic Product.