As South Africans struggle to deal with the aftermath of the unrest that affected some parts of the country recently, government is hard at work putting together measures to help people and businesses.
During an address to the nation, President Cyril Ramaphosa said government will take steps to support households and help businesses restock and rebuild.
"We are in the process of providing immediate food relief to households. We are targeting areas affected by the looting and where people have no access to food," he said.
Provincial Departments of Social Development and the South African Social Security Agency will provide support to those in need through food parcels, cash and food vouchers.
 "To assist with the immediate needs of affected communities, the Solidarity Fund has established a Humanitarian Crisis Relief Fund to assist those in greatest need at this time. We are calling on all South Africans to support this fund," added President Ramaphosa.
Long road ahead
He said the effects of the violence will be felt by all South Africans in the weeks and months to come.
"The damage that has been done to vital economic infrastructure will take time to repair.
"This in turn will have an impact on the availability of food, fuel, medicine and other supplies not only in South Africa, but across the region."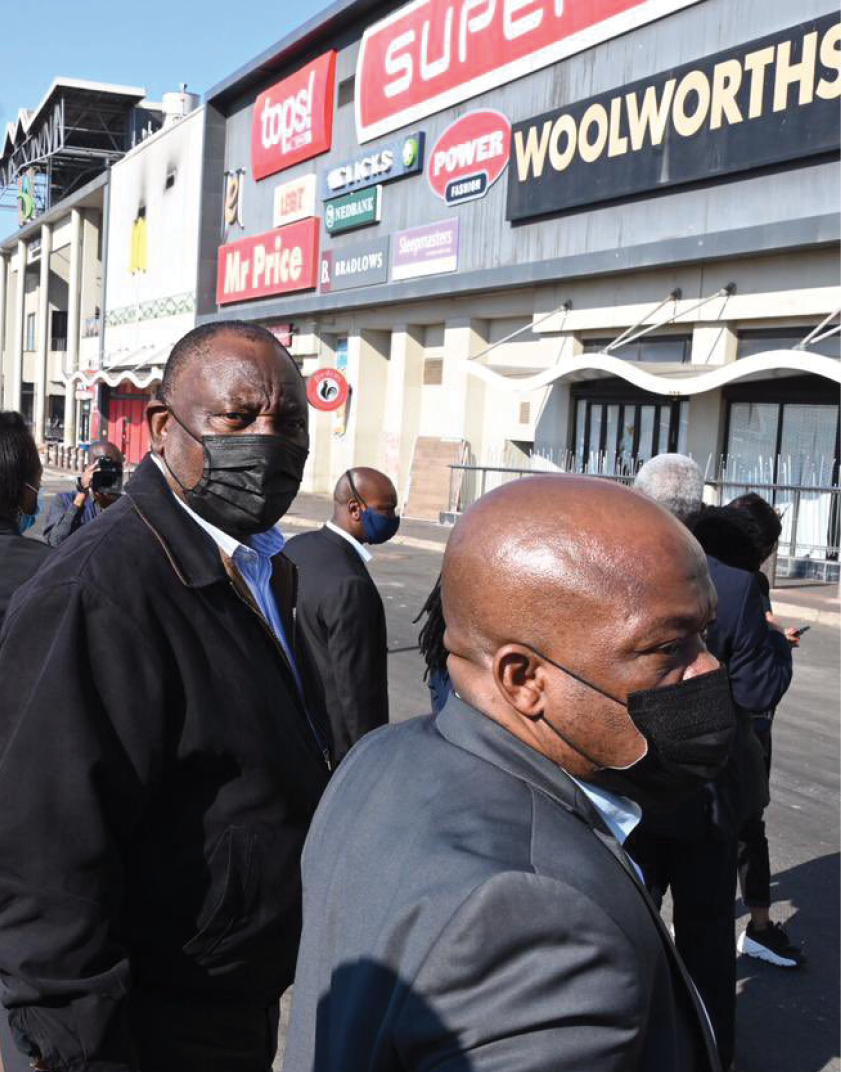 The violence and destruction has further damaged the country's economy, which has already been severely affected by the Coronavirus Disease (COVID-19) pandemic.
The President warned that the destruction of businesses would likely lead to more job losses.
 "Ultimately, it will deepen poverty and cause even greater hardship for millions of South Africans."
Support for families
A number of companies, organisations and faith-based groups have already started providing support to families in need.
"Social partners have been meeting to discuss a range of measures which can be implemented to provide immediate relief...This includes the provision of emergency food relief and other assistance to those in greatest distress," said President Ramaphosa.
Government will also help small businesses, including those in townships and rural areas, to recover from the damage they have suffered.
"Our business people provide important goods and services in our communities, and we will help them to rebuild their businesses."
A team in The Presidency and National Treasury is already working on a comprehensive support package for Cabinet to consider.
Loss of lives
Since the outbreak of the violence in July, at least 212 people have lost their lives. Of these, 180 have been in KwaZulu-Natal and 32 in Gauteng.
More than 100 incidents of public violence, arson, looting and other incidents have been recorded. Most of these incidents took place in Gauteng and KwaZulu-Natal and more than 3 400 people have been arrested.
"The destruction of property and theft of goods has cost businesses, consumers and the country as a whole billions of rands," said the President.
Extensive damage has been caused to 161 malls and shopping centres, 11 warehouses, eight factories and 161 liquor outlets and distributors.
Attack on democracy
President Ramaphosa said the unrest and looting were part of a deliberate, coordinated and well-planned attack on the country's democracy.
These actions were meant to cripple the economy, cause social instability and severely weaken – or even dislodge – the democratic state, he added.
"Using the pretext of a political grievance, those behind these acts have sought to provoke a popular insurrection.
"They have sought to exploit the social and economic conditions under which many South Africans live – conditions that have worsened since the onset of the COVID-19 pandemic – and to provoke ordinary citizens and criminal networks to engage in opportunistic acts of looting."
The President said despite the damage that has been done, those behind the unrest failed to gain the support of the majority of South Africans.
"It has failed because of the efforts of our security forces, and it has failed because South Africans have rejected it and have stood up in defence of our hard-won democracy."
During the unrest, President Ramaphosa deployed 25 000 members of the South African National Defence Force to support the work of the police.
He commended the efforts of individuals, organisations and communities who helped restore calm and protect lives, property and infrastructure through peaceful means.
 "We thank all those people who have remained at their posts under difficult and dangerous conditions, providing services to our people and our nation – the law enforcement personnel, healthcare workers, social workers, security guards, municipal employees and many other frontline public servants."
The President called on South Africans to stand together to defend the country.