South Africans have come out out in full force to support each other, clean up and rebuild businesses that were affected by the civil unrest in July.
The country went through a difficult period recently, when many malls, shopping centres, factories, warehouses and businesses in KwaZulu-Natal and Gauteng were looted. Some were even torched and burnt to the ground.
While the government and private sector were assessing the damage and putting together recovery plans, thousands of ordinary South Africans teamed up to clean up and start rebuilding what had been lost.
Social media mobilises citizens
Social media groups were started to mobilise citizens to go to affected areas near them to help. They were cautioned not to enter businesses' premises, to ensure that investigations into the looting and their resulting insurance claims were not compromised.
Social activist Siyanda Ntenga joined students residing in the Durban CBD, local minibus taxi operators and the public who were getting their hands dirty to help the community.
They spent an entire week cleaning various streets and each day inspired more people to come and help.
"We started as a few people but, as we kept going, more people joined. We were happy to see owners of small, foreign-owned shops coming out to join us. It was the most beautiful thing to watch," says Ntenga.
He adds that besides his love for community service, he was driven by the worry that the more time it took to clean up the city, the longer many families would have no income as businesses would not be operating.
Citizens play their part
Diana Khumalo, one of the students who participated in the clean-up campaign, says she could not wait for municipal services, which had a backlog, to clean up, and felt a need to play her part in restoring order to the city.
"I love my city and seeing it destroyed was heart-breaking. Instead of just sitting inside and watching all the trash pile up, I decided to join those cleaning up. Many hands make light work, as they say."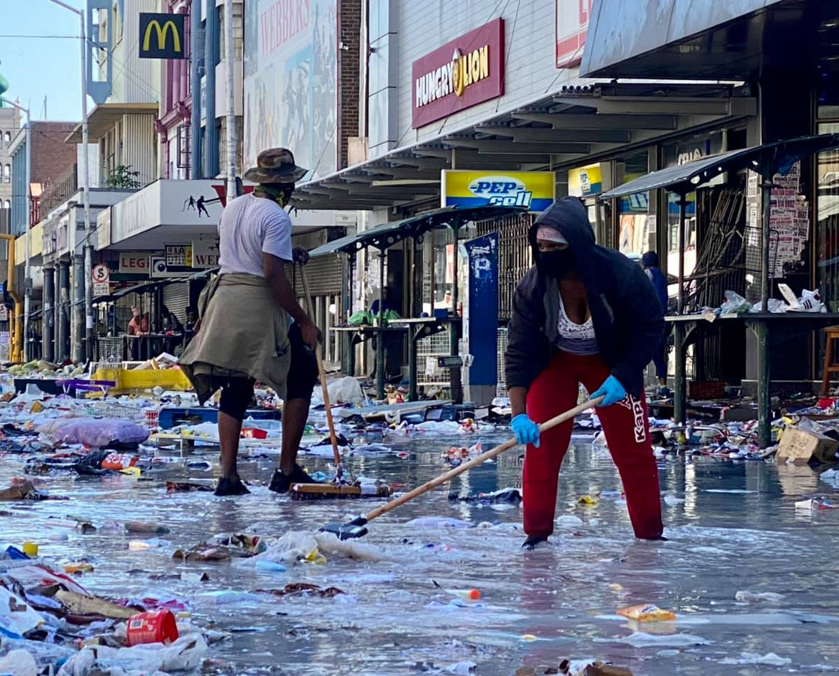 Zukiswa Macingwane enjoys baking in her spare time. When no shops were opened and people were worried about supplies, she baked bread and handed it out for free.
"I believe in the human heart. Making bread and sharing it with others showed that it is not over, the human heart can still triumph and together we can get over this© We don't have to be separated," she says.
Macingwane also joined one of the clean-up campaigns, after seeing a call on social media.  
Although she knew none of the people she was cleaning with, she says they worked as a team because they shared passion to see life going back to normal in the city.
"What happened was hard on everybody. Some lost their source of income, some their businesses and some their loved ones, who died during the mayhem.
"Some analysts are painting a gloomy picture of what we are to become, but I am positive we will rise above it all," she says.
Rebuilding SA
In Gauteng, Soweto resident Emelda Masango started a social media page called RebuildSA, to ask people to offer any form of help they could to clean up after the chaos.
The group recruited volunteers, who went out to clean up looted shops and shopping centres.
Some people donated food and money, while others coordinated information to share with the public so that they knew which shops were open and where they could buy groceries.
"We had many volunteers and donors pulling their weight and we made a difference.
"It was bad. There were old people and children who just could not cope with the vandalism and looting they saw© It was traumatic for them," says Masango.
Besides the clean-up campaigns, people offered their services to small businesses to help them build back up so that they could again employ locals.
Other people arranged food banks to help the needy get the food that they so desperately needed.
Acting Minister in The Presidency Khumbudzo Ntshavheni says government appreciates all of the South Africans who displayed the spirit of ubuntu.
"We thank the business sector (big and small) which partnered with government to ensure continued operations of the South African economy and critical supplies; political leadership from all political parties, for putting political differences aside for the benefit of our beloved country; and traditional and interfaith leaders, for partnering with government to call for calm in our communities," she says.