Written by Kgaogelo Letsebe
The National Youth Development Agency (NYDA) and Chemical Industries Education & Training Authority (CHIETA) learnership programme is preparing a group of youngsters to take their place in the world of work as qualified artisans.

The programme includes theoretical studies and practical study placement in the electrical and fabrication engineering sectors. The 70 young people chosen from across the country to take part in the programme receive a monthly stipend to enable them to support themselves while they learn.
The programme started in April 2021 and the group is expected to graduate in 2024. The NYDA and CHIETA are unable to confirm if they will train another batch of youth at the moment through the programme.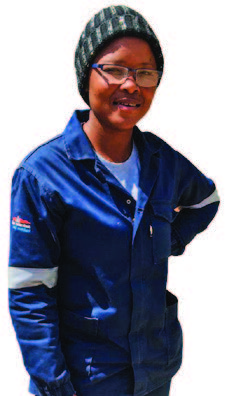 According to the NYDA, its role in the partnership included recruiting learners, identifying accredited training providers and work hosts for learners to do their practical training and co-funding the programme.
Meanwhile, CHIETA, a statutory body that aims to help and encourage skills development in the chemical industries sector, is co-funding the programme and approved the selected work hosts and training providers.
Programme beneficiary Hlengiwe Mkhwanazi (35), who was born in KwaNongoma eMsebe in KwaZulu-Natal, is doing her practical training at Electric Eel Contractors in Polokwane, Limpopo.
After matric, she did not have the funds to study further. "It was only in 2018, after I received a National Student Financial Aid Scheme bursary, that I was able to register at Mthashana TVET College in Vryheid. There I obtained an N5 in Electrical Engineering."
She says while the class was completing the course, their lecturer asked for their CVs so she could help them identify future study or work opportunities.
Mkhwanazi says two months later, she was called for an interview with the NYDA and was later informed that she had been accepted for the apprenticeship.
"I am learning a lot during my practical studies. Now I can do house installation, fault finding and maintenance. I was encouraged to go into this sector because I wanted to be that person who can do all kinds of work, regardless of gender."
Mkhwanazi says her plans include opening her own company and creating job opportunities for the
youth.
The NYDA advises South Africans between 18 and 35 to register on the data-free youth database (www.sayouth.mobi/) to find out about youth skills and empowerment programmes.
They should also look for funding and other opportunities on the NYDA ís social media platforms (National Youth Development Agency on Facebook, @NYDARSA on Twitter and @nyda_insta on Instagram).