Written by: Nosihle Shelembe
The resumption of commuter rail services on the Pretoria to Pienaarspoort line on 26 September has lessened the strain on commuters' budgets.
Commuters were severely impacted when the service was suspended for major rehabilitation work, but they can now travel safely on the new electric trains – for only R8.50 a trip.
The successful resumption of services also means the return of local business to the Pienaarspoort station. Entrepreneurs working at the station had to close shop when the service was stopped, after vandalism and destruction during the hard COVID-19 lockdown left the infrastructure ruined.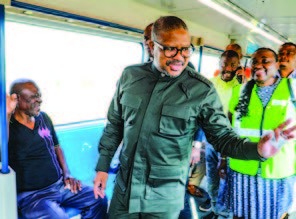 "It is heart-warming to witness the happiness of the commuters because our people are suffering in terms of the cost of living. They are hard hit when it comes to transportation [costs] when the trains are not moving," Transport Minister Fikile Mbalula said at the opening ceremony.
The line has undergone major reconstruction, with the introduction of advanced signalling technology, modernised high-speed circuit breakers and the use of aluminium wires to counter copper theft. In addition, back-up power supplies mean that the service will not be affected by load-shedding.
Prior to the pandemic, around 28 097 people used the Pretoria–Pienaarspoort rail corridor each day. The current number of commuters is around 5 680 per day. More than 28 000 commuters used the train service in its first week of service.
Get passenger trains going again
At the launch of the Transport Month campaign on 3 October, the Minister spoke about the Rail Corridor Recovery Programme that was started by the Passenger Rail Agency of South Africa (Prasa) in April 2021 to restore services in priority rail corridors around the country. Many lines were closed because of vandalism and theft.
Apart from the Pretoria to Pienaarspoort line, corridors to be restored in Gauteng as a priority include Pretoria to Kaalfontein, Leralla to Johannesburg and Naledi to Johannesburg. New Canada, Mlamlankunzi, Orlando, Nancefield, Kliptown, Midway, Lenz and Tshiawelo stations are also being upgraded.
Prasa has improved its security along the rail network and at stations and will use new technology and additional security personnel to protect the rail infrastructure.
In Addition, the Minister says work is underway to recover rail services on the Cape Town central line. "This entails the relocation of illegal settlements that are currently on the rail track and reserve."