Traditional clothing designer Nkazimulo Ngidi will soon supply the bulk of his outfits to informal traders who lost their stock during the KwaZulu-Natal (KZN) floods in April, after he was appointed by the Small Enterprise Development Agency (Seda) to be part of its flood relief programme.
He operates from the busy Warwick Junction in Durban central, where many informal traders were affected by the floods. Through the Seda project, Ngidi will help these traders get back on their feet by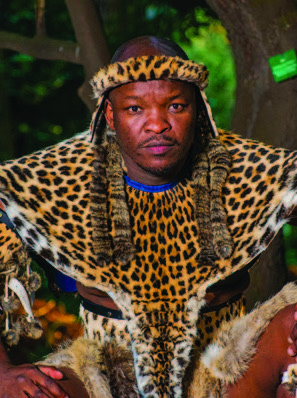 supplying them with traditional clothing stock.
He was appointed by Seda as a provider to supply all traditional attire to informal traders who were affected by floods.
Ngidi says being part of the programme will also help grow his business. In addition, he benefits from Seda's pop-up markets, which enable him to showcase his range to potential clients.
The 39-year-old has been designing traditional wear from a young age, having learnt the skill from his grandfather. In 2013, he registered his company, Amabheshu Innovators.
Its services include creating traditional outfits from animal hides, putting together traditional outfits for artists and hiring out traditional wear. With the assistance of his wife, Phindile Gumede, Ngidi also designs women's beads.
He says he collects the cowhides from households that have just slaughtered a cow and buys wild animal hides from hunters in rural areas.
In 2014, he took part in 2014, he took part in a programme run by the Project Preparation Trust (PPT), a non-governmental organisation funded by various KZNgovernment departments and private donors. It manages developmental projects for disadvantaged communities and Ngidi was lucky enough to receive business training.
He has also benefited from taking part in various exhibitions, including the 2016 Essence Festival Durban, which attracted international participants and helped him secure international clients.
He recently won a special recognition award for excellence at the Durban Business Fair.
"There is a strong market for traditional attire of late. People are passionate about their culture," he says.
Apart from his family, Ngidi's business has created employment for 10 people, including casual workers. He plans to open a manufacturing plant and hopes to create more job opportunities.
Informal traders who lost stock during the floods can apply for Seda support by filling in the form available on Seda's website: www.seda.org.za.