A nurse who worked in a COVID-19 high care hospital ward urges the public to get vaccinated.
Professional nurse Marosa Molai advises citizens not to wait until they get infected with the Coronavirus Disease (COVID-19) before they get vaccinated.
"You might not make it. This virus is deadly," says Molai, who vaccinates the public at Universitas Hospital's vaccination site in Bloemfontein in the Free State.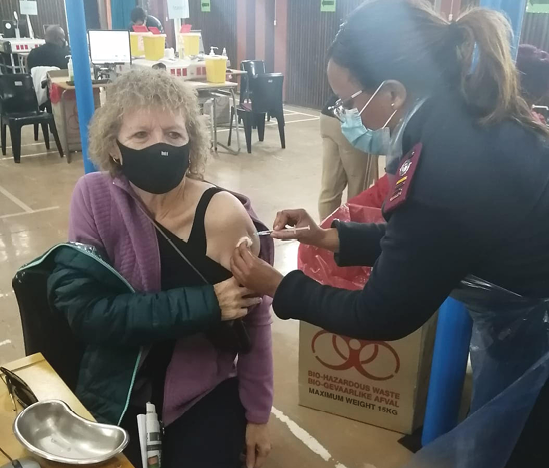 She has seen first-hand how COVID-19 can make people very sick and die.
"I started working at the vaccination site in April 2021. So far, I have been encouraged by the positive attitude and response that most people have shown towards the vaccination programme. I also get to further explain the importance of vaccination."
Molai, who also worked in the hospital's high care COVID-19 ward, says it is an honour to be part of the team that saves lives. "I have personally seen how COVID-19 has affected people and how many lives have been lost since the virus hit the nation," she says.
Molai had to emotionally prepare herself for the worst when she worked in the high-care ward, because many people died in a short period of time. "Having worked with people who were infected with COVID-19 has made me strong, but has also affected me emotionally. It is not easy to deal with family members who have lost their loved ones to the virus."
Molai is afraid to visit her mother because she does not want to unnecessarily expose her to the virus, regardless of how much she misses her. "It is very tough, but things will get better because people are responding well to the vaccine and have come in numbers to get vaccinated."
Molai encourages the public not to give up the fight against the pandemic.
"The current situation will change, but it starts with you. Wear your mask, sanitise and keep a physical distance to minimise the spread of new infections while we roll out the vaccination programme. "Wait patiently for your turn to get vaccinated, but do your part as an individual to not get infected and infect others," she says.
She encourages those who are scared of getting the vaccine to not believe the myths and fake news, and to register for the vaccine so that the country can win this fight.