The Eastern Cape Agricultural School Programme's winners have been announced.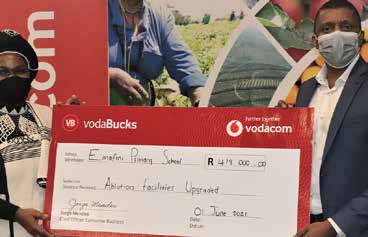 The agriculture and food security programme, which was launched earlier this year, included 131 underprivileged schools across the province.
The partnership between the province's Department of Education, Department of Rural Development and Agrarian Reform (DRDAR) and Vodacom encourages youth to play a significant role in food security, job creation and poverty alleviation, through active participation in agriculture, says Rural Development and Agrarian Reform MEC Nonkqubela Pieters.
"The relationship and partnership between the private sector and government is definitely a milestone in the development of rural people. This is an integral part of our district development model, where government and the private sector work together to support communities," she says.
Schools had to demonstrate innovation and creativity in improving production; show a commitment to care for and ensure the sustainability of natural resources, including an understanding of adaptation and mitigation to climate change; and show innovation and creativity to improve farming methods and deliver a consistent supply of high-quality products.
Taking top honours in the primary school category was Emafini Primary School, followed by Meyiwa (second) and Mbewula (third) primary schools.
In the high school category, Phambili High School took first place, followed by Ncura Secondary School in second place.
The agriculture school category was won by Clarkebury Agriculture High. Frank Zibi High came second and Ulana Agriculture High School came third.
Emafini Primary School won overall, receiving the R418 000 grand prize, which was used to build ablution facilities. Phambili Secondary School (second) won R180 000, which was used to build a borehole and Clarkebury Agriculture School (third) received R161 000, which it used to build a fence.