Written by More Matshediso
Government has stepped in to aid Northern Cape farmers whose livelihood is at risk because of drought.
Government and stakeholders in the agricultural sector are helping farmers affected by severe drought in the Northern Cape's five districts. Recently, Deputy President David Mabuza visited Aggeneys in Namakwa District Municipality, in the Northern Cape, to announce urgent interventions.
Almost 15 500 farms with a carrying capacity of 613 447 large stock units, covering more than 20 million hectares, are severely affected.
Without above-average summer rain this is estimated to escalate to a million large stock units.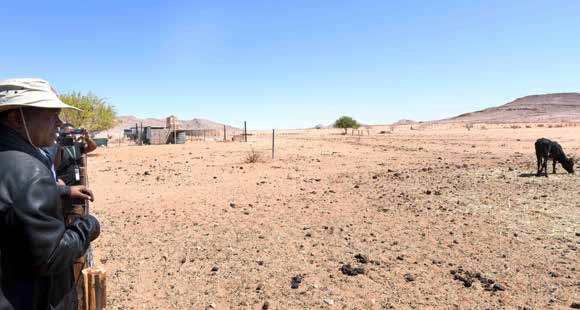 In providing urgent relief to the Northern Cape farming community, government has reprioritised about R30 million for procuring and distributing fodder as a short-term measure.
It will also drill more boreholes and help increase the provincial fodder bank's capacity.
In addition, government will engage with the Land Bank on ways to provide relief for defaulting farmers affected by drought. 
Hedley Joe Maasdorp (24) from Zuurwater Farm said they were fortunate to be amongst the small-hold farmers who received government aid this year.
Zuurwater needs rain
Maasdorp said they had received enough Lucerne to feed their livestock for about five weeks. "This is going to assist us a lot and within this time we will also look at ways of moving forward to help ourselves further," he said.
Maasdorp has farmed with his parents for the past 15 years.
"We initially started farming in community grounds many years ago, but we managed to buy our own land in 2006 and we are still using it for farming," he said.
They specialise in cattle and sheep, but also breed goats and donkeys.
Maasdorp said drought has affected livestock production.
"We experienced the first extreme drought in 2008, but somehow we survived it. I think we last had good rains in 2013 and that was a good year for us because we had a total of 700 sheep and 86 cattle. That is the highest number we have ever reached," he said.
"Due to the persisting drought, some of our animals died and we had to sell others so that we could feed the ones that we are left with. We have 22 cattle and 70 sheep. That is a huge difference compared
to what we had in 2013," he said.