Written by Dikeledi Molobela
With determination and a clear vision, Mziwamadoda Nondima transformed his dream of owning a law firm into reality.
Now, he shares his valuable insights and advice with other ambitious young individuals who aspire to enter the world of legal entrepreneurship, emphasising the significance of planning, saving, and leveraging available resources.
At the age of 30, Nondima started his law firm Nondima Attorneys Inc., which became operational in February 2022.
Nondima who hails from Bizana, a rural town in the Eastern Cape, is a beneficiary of R50 000 funding from the National Youth Development Agency (NYDA).
Besides getting the NYDA funding, Nondima advises those who want to start their own law firms to save up money well in advance so that their businesses will be able to handle financial strain.
"Do not expect an influx of clients as soon as possible. Remember, the NYDA is also available to assist you," he said.
Nondima spoke to Vukuzenzele about his journey.
After matriculating at Mpondombini Senior Secondary School, Nondima went to study at Rhodes University from 2013 to 2017. He obtained his Bachelor of Laws (majoring in Economics and Legal Theory).
In January 2018, he joined Boqwana Burns Inc. as a Candidate Legal Practitioner. After completing his articles of clerkship, he was admitted as an attorney of the High Court of South Africa.
Towards the end of 2021, Nondima started preparing for the establishment of Nondima Attorneys Inc.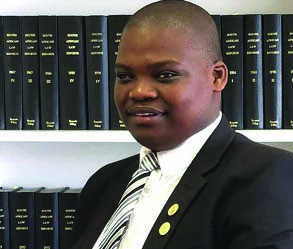 Before starting the law firm, he had to research law firms.
"I read a bit more about opening a company on the Companies and Intellectual Property Commission website. I reserved the name and then attended to the registration of the company as a personal liability company. I opened bank accounts (trust and business accounts)." 
He said he went on to register the business with the Financial Intelligence Centre and The South African Revenue Service.
"I then proceeded to submit everything to the the Legal Practice Council," he said.
Nondima told Vukuzenzele that he had always dreamt of starting his own law firm.
"I started it on my own, but I would have loved to do it with one or two partners. The more, the merrier. I thought, perhaps, this is the best time to begin with this project," he said.
Although Nondima's firm has not created many jobs, he is hoping to help curb the high unemployment numbers in the future. He currently employs one person who assists with administration.
For more information about the NYDA, visit www.nyda.gov.za/or call 0800 58 58 58 (toll-free).