The Stony Point penguin colony in the Western Cape village of Betty's Bay is a popular tourist attraction.
It offers the public a chance to see penguins go about their daily activities in their natural habitat.
Along with protecting the endangered penguins, the site is proving to be a heart-warming example of how government officials can join hands with communities to create jobs and provide much-needed financial support.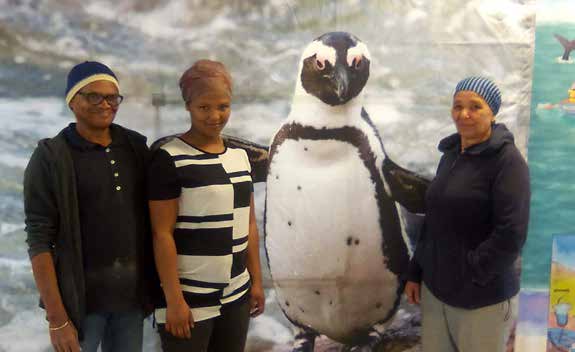 The Mooiuitsig community is located just outside the borders of the penguin colony. In 2007, the Mooiuitsig Community Trust was established to find ways for the members of this community to benefit from local tourism.
Provincial conservation agency CapeNature took over management of the penguin colony in 2014 and set about building a restaurant which was then handed over to the community.
Today, the On The Edge Restaurant employs six people from Mooiuitsig and profits are also given back to other community members.
Stakeholder Engagement Officer for CapeNature Edith Henn explained that the Mooiuitsig Trust is run by community members who have been provided with training.
"The members of the trust are given training sessions related to how a trust works, business management, administration, human resources, the importance of conserving Stony Point, fire awareness, water-saving tips and other topics," she said.
This has allowed the elected trust members to greatly expand their knowledge and skills. Jordan van Wyk, chairperson of the trust, said the initiative has been a huge help not only to him, but the community as a whole.
"It gave me the chance to learn skills and to help serve my community. Now we are managing to employ people at the restaurant and other households in the community are also getting the rewards," said Van Wyk.
Van Wyk said that every year, the trust hands out donations of R600 each to households.
Meanwhile, Lucretia Jordaan, the youngest elected trustee member, has enjoyed great personal growth as a result of being part of the initiative.
"I was studying business management but couldn't afford to finish my studies. The trust gave me an opportunity to be the manager of the restaurant for three months," said Jordaan.
Thanks to her involvement in conservation at Stony Point, she successfully got a job as a conservationist at the South African National Biodiversity Institute.