Written by Silusapho Nyanda
St Barnabas College and UJ Metropolitan Academy, both specialising in science, technology, engineering and maths (STEM), will enable 197 Grade 8 pupils to learn various ICT skills, such as robotics and coding.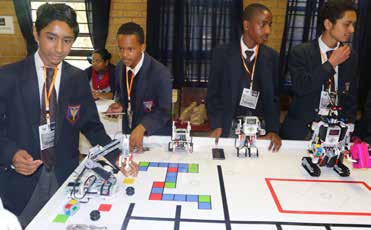 The schools were officially launched by Gauteng MEC for Education Panyaza Lesufi. The department is in partnership with Honeywell and its charity arm, Melisizwe Computer Lab Project, to equip pupils with software programming and  ICT skills.
The conversion of the schools into specialisation schools is part of a wider initiative to drive participation among learners in STEM.
The Principal of St Barnabas College, Heather Carolus, said the school used to focus on maths and science, but has added ICT-related subjects to its curriculum. "The subjects will prepare learners for our society and a future society by empowering them for the next generation in coding and robotics," she said.
The introduction of ICT subjects at the school has garnered great interest from pupils and classes will be phased in over a number of years, starting with this year's Grade 8s, said Carolus. Besides a matric certificate, pupils will also earn certificates as they progress in their ICT studies.
"With the Fourth Industrial Revolution, we are starting to move with the times, so taking advantage of technology will really advantage pupils. If the children are not prepared then they will leave school without the needed skills," said Lauren Edwards, a member of the school's Governing Body.
"Through these partnerships and the initiatives with Honeywell, Melisizwe and the University of Johannesburg, we are igniting a new level of hunger for learning about STEM and committing to helping learners progress successfully through school. This will provide learners with opportunities to build exciting technology and science-focused careers, making a positive impact in our country and the world," said MEC Lesufi.
"By investing in courses such as the Melisizwe Computer Lab Project, we are ensuring that young people in South Africa have the best possible start to their future technology careers so that they too can go on to help shape the way the world works through innovation," said Honeywell's President of Africa, Sean Smith.