Aspiring artist Carlo Olivier (37) never thought that he would see his artwork painted on the side of a tall building.
Through the City Mural Project in Cape Town, Olivier's art is now being seen by thousands of people every day. His work has been transformed into an enormous piece of art on the wall of a block of flats.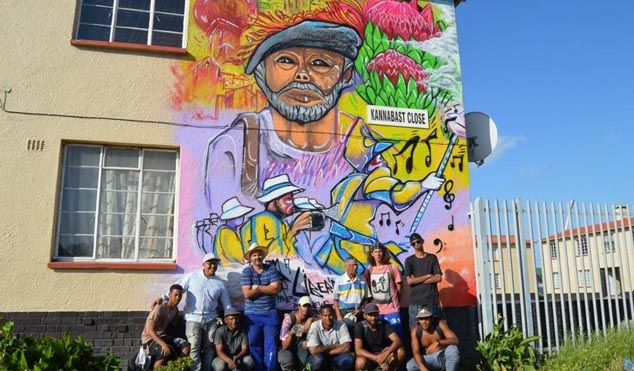 Funded by the city's arts and culture department, the project started in the settlement of Leonsdale in mid-2018. Hundreds of unemployed artists – including Olivier – were asked to design artworks and residents then voted for the ones they liked most. The artists then painted these designs on the outside of council flats. The murals pay tribute to the anti-apartheid struggle and display iconic people, sporting traditions, local cuisine and arts and culture.
Olivier says that the project has given him an opportunity to show his skills as an artist.
"I have been an artist in Leonsdale for a long time and this was the first opportunity we got to show what we can do. We did it with the community to spread inspiring messages of hope and show others passing Leonsdale the talent we have," said Olivier.
The year the project moved to Athlone where several more emerging artists were involved in painting four more ground-to-roof murals. Roscoe Masters, an art teacher at a high school in Cape Town, was one of the team leaders guiding the unemployed artists. He said projects such as these are an excellent way to highlight the issues facing communities.
"Art is a very important tool to voice concerns and opinions about what is happening in your own community. I also like the aspect of engaging with the community and getting to know what the people are going through. You can then find a way to interpret their problems best through your artwork."
Masters added that it was encouraging to see the publicity that the project created for the unemployed artists.