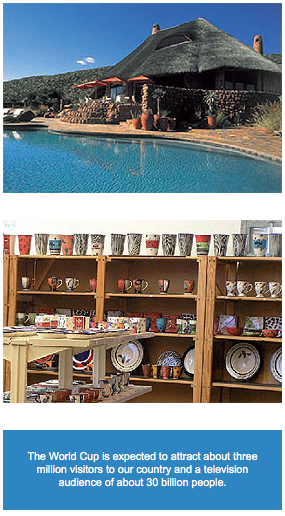 The year 2010 will see millions of soccer fans from all over the world visiting our country. It is a landmark year that many South Africans have been looking forward to with expectations to host the best ever FIFA World Cup. But the real and meaningful benefits of hosting the world's largest sporting event will only come after 2010...
This will be the first ever African FIFA World Cup and the biggest sporting spectacular in the world. South Africa's successful hosting of the FIFA Confederations Cup, the DLF Indian Premier League and the British Lions Tour last year, re-confirmed the country's readiness to host the World Cup.
The World Cup gives South Africans a once-in-a-lifetime chance to showcase our country as a tourism destination. This includes our people, our natural and cultural heritage and our world-class infrastructure. One of the lasting benefits of the World Cup, is that all of these things fill us all with a sense of pride, which encourages social unity and patriotism.
Economy
The World Cup is expected to attract about three million visitors to our country and a television audience of about 30 billion people. This exposure will provide an unmatched opportunity to market our country as a wonderful place for tourists to visit.
Tourism resulting from the World Cup will bring about R15,6 billion into the country. The World Cup will contribute a further R50 billion to the economy from construction investment alone.
Investment
Between 2006 and this year, the public sector has invested a lot of money in things like stadiums, transport, telecommunications, safety and security and infrastructure for ports of entry. Billions have also been invested in hotel and resort developments by the tourism industry.
All these investments will leave a lasting legacy long after 2010. In addition, the hosting of the World Cup has brought many opportunities for small businesses and emerging tourism entrepreneurs.
Continued growth
A modern public transport system - in the form of the Bus Rapid Transit (BRT) system and the Gautrain rapid rail link - is seen as one of the most important legacies that will benefit South Africans long after the World Cup.
In addition to this, the police is increasing its permanent staff from 55 000 to over 190 000. Police reservists will be increased from 45 000 to 100 000 by this year. South Africa has also upgraded its broadcast network. This includes a R1 billion switch-over from analogue signal to digital terrestrial television (DTT) and an upgrade of telecommunications infrastructure. Growth can be expected to continue after the tournament.
- Mbulelo Baloyi