PLEASE NOTE:
The games on this page are not a competitions. They are only for fun, so don't send your answers to Vuk'uzenzele.
2010 IS HERE AT LAST! After many months of hard work to prepare our country for the World Cup, we are ready and waiting for kick-off on 11 June! The stadiums and the infrastructure are completed and now we must all gear ourselves to welcome soccer fans to our beautiful country for the "beautiful game". Zakumi will bring some fun to the event; let's all follow his example - let's be friendly, proudly South African and good ambassadors for our country.
How can we be 2010 ambassadors?
We must all stand together to make this event a success. Fly the flag with pride; support the national team and wear your Bafana Bafana shirt on Fridays; learn to do the diski dance and teach others to do it with you; learn to sing the national anthem; and remember this World Cup is not only a South African World Cup, it belongs to all of Africa.
Crossword Puzzle
Use the clues on the right to complete the crossword puzzle.
Print the image below to complete this game...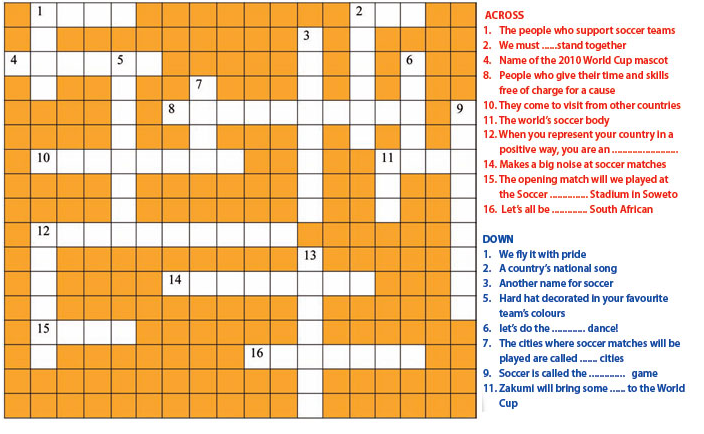 Fill in the Missing Words
Complete the sentences by filling in the missing words.
Print the image below to complete this game...