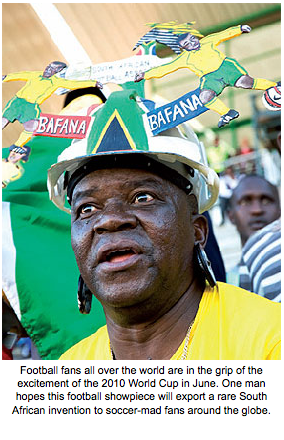 South Africa's latest 'export product' will be in the form of the popular hat worn by South African soccer fans known as the 'makarapa'. This hard hat was originally used as protection for miners and construction workers.
Protection
It all started with an incident at a soccer match in 1979 when a fan was hit by an object thrown by excited fans. Kaizer Chiefs supporter, Alfred "Magistrate" Baloyi thought that the soccer fan would not have been injured if he wore a protective hat.
When a construction worker friend gave him a hard hat to wear at future matches, he decided to decorate it. Baloyi, who has a natural talent for art, painted his helmet in the black and yellow colours of Kaizer Chiefs. No sooner, had he started wearing his colourful hat, when other soccer fans asked him to make similar hats for them.
More and more fans started wearing hats decorated in the colours of their favourite teams. Since then, the makarapa has become a permanent feature at South African football games.
Decorations range from simple painted designs to stand-up cut-outs of players, teams or animals. This is often combined with giant false spectacles, miniature soccer balls or horns.
Artist
Baloyi, who comes from Limpopo, now works as a municipal bus cleaner in Johannesburg. His nickname "Magistrate" comes from the colourful gold and black robes he wears to every game of his favourite team, Kaizer Chiefs.
"I have never seen the door of an art school - drawing and painting just came naturally to me," he says.
"At first I only painted the helmets, but I started experimenting by adding horns, like goats' horns. I then decided to start cutting out pictures of players and putting them on the helmets."
Opportunity
With the World Cup approaching, Baloyi saw an opportunity to sell his unusual hats to visiting soccer fans.
"This being the first World Cup in Africa, visiting football fans have to take home something to remind them of Africa and my makarapas are the perfect souvenirs," says Baloyi. He has already teamed up with Grant Nicholls, who runs a local sports marketing company. They are looking at the best way to market the helmets and to help underprivileged South Africans by teaching them the skills to make similar hats.
Baloyi crafts a "signature" hand-made range, usually on commission for fans. You don't necessarily have to buy one, you can just be creative and make your own.
- Mbulelo Baloyi