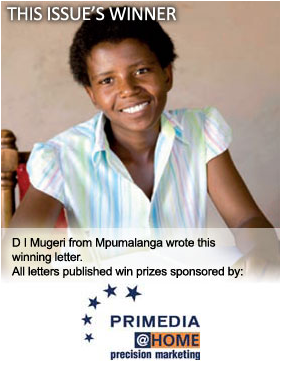 WINNING LETTER
We are our own government
This is an era of "people for the government and the government for the people". South Africans should stop depending on the government and understand that as citizens of a democratic country we are the government. We are the ones who have to come up with ideas that will help boost the economy and help our country to grow.
We should make efforts to not only protect, but also enhance the government. We should not steal from the government. This does not mean that we tolerate corrupt officials that are representing us in the government.
It means if we work together we can fight corruption and help to create a better government that will benefit all of us.
- D I Mugeri, Dennilton, Mpumalanga
Be like a moving car
Let's fight challenges by being like moving cars. Let's put ourselves in forward gear in spite of problems - if we are like standing cars, we are not helpful. Through starting projects we can live better lives and create job opportunities for ourselves and other people. Stand up, get people together, talk to them and start a project together.
In my church we have started a beadwork project to spread skills to the church's youth. We are also going to fence the church yard and start our own vegetable garden to help needy people and orphans.
- Caroline Mbokiseng Moloi, Nqutu, KwaZulu-Natal
Stop demanding and blaming - start doing
We always demand, and when our government supplies, we are not satisfied, it is not good enough or we want more. People, let's stop demanding and blaming our government for everything that goes wrong, while we are sitting around doing nothing to change the conditions we complain about.
Let's start doing something like working together with government to make South Africa even better.
- Andile Mjiyakho, Utrecht, KwaZulu-Natal
Ignorance is killing us
It is not going to help our country if we continue to ignore issues affecting the state of our country.
People should make it their priority that they not only understand, but make an effort to solve issues like crime, HIV and AIDS and economic issues. Let us use our skills to help each other. It is not right to just watch your neighbour suffering if you can help.
Together we can do so much more.
- John Nkoana, Boyne, Limpopo
Make the right decision
Think twice before you make the final decision. Young people are faced with challenges especially at school and in their communities. Peer pressure is destroying their lives. Think how your behaviour will benefit your long-term goals. Think before you have unprotected sex; if you fall pregnant who will support that child and will you be able to go to school. Think before you start smoking; it is made clear that smoking causes cancer, so are you willing to risk your life just for a cigarette. Always strive to be wise and to take the right decisions for your own future - no one can make it for you.
- T C Ndlovu, Esikhawini, Kwa-Zulu Natal
It's OK to have dreams
We all have dreams. It's OK to have dreams and keep them in our hearts - they are special and admirable as they can help us to reach our goals. I have dreams of my own and I keep them warm and safe inside, only to wake them one by one when the time is right. One of them is 'peace and love in South Africa' and I know it's not too late. Let us work together on things that will brighten the future of South Africa.
- Shadrack Mboweni, Tembisa, Gauteng
Suicide is not a solution
Committing suicide can't solve any problems. If you have difficulties in your life, speak to someone úyou trust and share your problems with that person. There are counsellors and social workers in South Africa, who are trained to help you. Don't allow your problems to ruin your life. Believe in yourself, don't give up. Even if you are HIV positive, don't try killing yourself, because there is life after that - "speak out".
- Sibahle Mbangi, Sebokeng, Gauteng.
You can succeed even if you were born poor
Most of South Africa's teenagers have lost faith in themselves. They think that they will never succeed just because they were born poor. This has led them to engage in behaviour that will not benefit their future. These teenagers often end up being alcoholics, drug addicts and worst of all they practice unsafe sex that increase their chances of getting HIV and AIDS.
The youth of South Africa must realise that they are going to be faced with challenges. Just because you are poor does not mean that you are going to be poor forever. It just means that you have to work harder at school and use all the opportunities that are available to you.
- Atsile John Maupe, Morokweng, North West
Brighten the colours of our rainbow nation
The world is going through an economic recession which increases poverty. We are lucky to be in a democratic country, but it does not mean we can sit back and ignore our education or responsibilities. We must bear in mind that we are the leaders of tomorrow.
Let's not abandon our talents, but nourish them to brighten the colours of our rainbow nation. Let's not destroy ourselves, kill our souls and rob ourselves of the dignity we have by committing crime, smoking, drinking and doing drugs.
- Johanna Mathiane, Ga-Mushi Village, Limpopo.
It is not about how you look
These days people are judged by the way they look. The more beautiful you are the more you are taken seriously. This is not right. People should be judged on what they can do best regardless of how they look. If you can do something really well, if you are talented and work hard that is all that matters.
As South Africans we should love and respect each other. We should support those who have talents, but feel excluded because of the way they look. We should teach our children to love and not discriminate at all.
- Sabata Daniel Booi, Virginia, Free State
WRITE TO:
Vuk'uzenzele, Private Bag X745, Pretoria, 0001, or e-mail: vukuzenzele@gcis.gov.za.
If you don't want to have your real name published, you may use a different name, but you must include your real name and address to us.
PLEASE NOTE:
To win a prize, you must include a physical address and a contact telephone number in letters to us.
All letters will get a response.