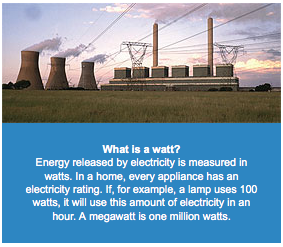 Eskom and the Department of Energy started a new building programme to create more electricity for new developments in South Africa. Electricity is an important part of progress and growth in the country.
To keep up with our country's progress and growth, Eskom has plans in place to increase the number of megawatts (MW) onto its national electricity grid. This means that there will be more electricity to meet the demands of many people and communities.
The programme is made up of the building of three new power stations called Medupi, Kusile and Ingula.
Medupi
The Medupi power station is a project in Lephalale, Limpopo. The project is the largest construction in South Africa and will be one of the largest power stations in the world. The Medupi will be completed by 2012.
It will have six units and a total power of 4 800 MW. It will also be able to create electricity in areas where there is a shortage of water.
Construction of the Medupi will use large amounts of concrete, steel, water and coal. The parts and cement will weigh the same as seven super tankers which is about 250 000 tonnes.
Kusile
The Kusile is the second most advanced coal-fired power plant project in Eskom after the Medupi. Construction began in 2007 and will take about eight years to complete.
A new coal shaft will be built next to the power station to ensure that it has enough coal to operate.
Ingula
The Ingula is a pumped storage plan north east of Van Reenen's Pass in KwaZulu-Natal.
It has an upper and lower dam which both have more than 220 million litres of water supply. The dams are connected by underground water pipes and pumps.
When the energy demand is low, the water is pumped from the lower dam to the upper dam. Work has already started.
How will these projects benefit South Africa?
All the projects will contribute to the creation of new jobs. Workers will be needed for the next few years to complete construction of the three power stations. The project has already created jobs for more than 12 500 people on the construction site.
The project will also increase electricity supply on a large scale. This means that as the country continues to grow, South Africans will have a sufficient electricity supply for future needs.
Thousands of workers are being trained currently as Eskom, together with government, continues to empower the South African Dream.
- Samona Murugan