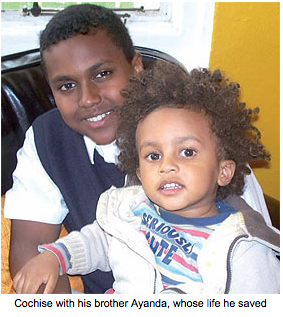 When faced with an emergency medical situation, even among adults, the first reaction is fear. It becomes worse when nobody has first-aid training. Whether it was sheer luck or pure chance, a first-aid book bought two months earlier prevented a near tragedy for a Johannesburg family.
This was when a twoyear old boy Ayanda Jones almost drowned in the family pool in October last year. However, his10-year old brother Cochise knew exactly what to do. This was thanks to the pictures he had seen in a first-aid book bought by their father Andrew Jones in August last year.
Pulled him out
Cochise, then in Grade 5, had just finished doing his homework when it was discovered that Ayanda was missing. Cochise then saw the seemingly lifeless body of Ayanda floating in the shallow end of the family pool.
"Something just told me that it was Ayanda. I ran down to the pool, dived in and pulled him out," says Cochise.
Mouth-to-mouth
At the time, Ayanda had lost consciousness and his face had turned blue, an indication that there was not enough oxygen. Cochise quickly began doing mouth-to-mouth breathing into the airways of Ayanda.
"I remembered what I read in the first-aid book and began to apply it to try to breathe life into him," says Cochise.
He used his hands to press his brother's chest as he had seen in the book. Water started coming out of Ayanda's mouth. At that time his father arrived and they took Ayanda to hospital where he was saved and where Cochise was declared a hero.
- Mbulelo Baloyi
 Tips on how to save a life
    First check if the patient is not breathing, but there is a pulse.
    Roll the patient on his or her back.
    Place the palm of one hand on the patient's forehead and the fingers of the other hand under the chin.
    Find out if the patient is breathing by placing your ear just above the nostrils and mouth. Listen for breathing while checking if the chest is moving. Feel for any air breathed out onto your cheek. Do this for 10 seconds.
    Ask someone to call an ambulance on 10177 or 112.
    If the patient is not breathing, breathe twice into the mouth, just enough to let the chest rise. If it is a child just blow over the nostrils and mouth.
    If the patient does not respond check the pulse on the neck or upper arm, holding two fingers on the area for 10 seconds.
    After this, if there is no pulse, start chest compression. Place one hand on the centre of the chest. Press down about five times.
    Breathe into the mouth, once after every five compressions until help arrives.