The South African National Defence Force (SANDF) is looking for young, healthy and eager young men and women to join their ranks. The process of increasing its staff with over 7 000 young people from next year has already started. Recruitment has started and the closing date for applications is April next year.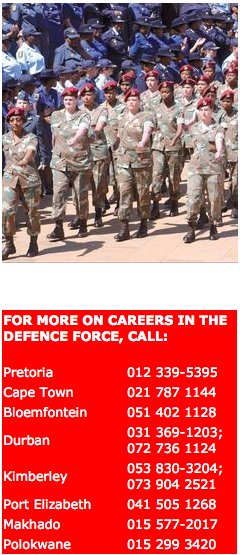 Selection
Because selection of applicants is a very long process, successful applicants will only join the Defence Force in 2009. The main reason why it takes so long is that hundreds of applications are received. All of them have to be checked carefully to see if all the information is correct. For example, those with criminal records are excluded.
So if you apply, be prepared to wait for at least a few months before you receive any feedback.
Career paths
Young men and women who are interested in joining the SANDF don't have to be become soldiers. There are many different career paths in all the branches of the defence force. These include the South African Army, Navy, Air Force and Military Health Services.
If you want to join, you must be healthy and disciplined and be between 18 and 22 years old. You must also have a matric certificate with at least a D symbol at higher grade or a C symbol at standard grade. Candidates who have mathematics, geography and biology will get preference.
JIPSA
Careers in the Defence Force are not only available to matriculants, but also to university or college graduates who have diplomas or degrees. The Defence Force needs people who are qualified in many different fields. These include, administrators, nurses, doctors, social workers, engineers, technicians, information technology graduates and many more. Graduates between the ages of 18 and 26 can apply for these positions.
The recruitment of young people in the Defence Force is done through the Military Skills Development System (MSDS).It forms part of government's aim to develop skills in South Africa through the Joint Initiative for Priority Skills Acquisition (JIPSA) programme.
- Muzi Mkhwanazi