Many lives can be saved if more people offer organs like heart, liver, kidney or lungs to be transplanted into sick people after death.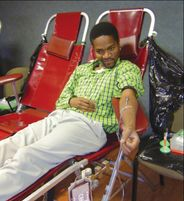 As an organ donor you will also be saving government millions of rands because the treatment of patients who need organs is very expensive. A patient who needs a kidney, for example, costs the government almost R80 000 per year for treatment. One session of haemodialysis – the process of using a machine to clean the blood of a kidney patient – costs government about R876 per session.
A second chance
Christopher Makhamele, one of the lucky patients who received a kidney from a donor, said he was blessed. "God has given me a second chance to live my life for my children," he said. Thousands of people like Makhamele need organs to save their lives. The most needed organs are kidneys, lungs, hearts, livers, bone marrow and corneas (the clear covering of the eye).
Cultural and religious beliefs are the main reasons why people don't donate their organs. Makhamele believes there is no need to fear parting with your organs after your death. "The decomposed body shows that the ancestors live in the spirit and not in the dead body," he said.
Blood
Donating blood is another way of saving people's lives, especially with the high number of road accidents during the holiday season.
But it is not only accident victims who need blood. People with certain cancers like cancer of the blood and bone marrow, HIV and Aids patients, people who had operations and women who bleed a lot when giving birth, also need blood transfusions.
The South African National Blood Service says that you shouldn't fear that you may get HIV and Aids from donating blood. The needles they use are clean and are used only once.
About 3 500 South Africans are waiting for organ and tissue transplants, which can save their lives. But because of a shortage of donors less than
1 000 of them will receive a transplant.
The demand for blood is always higher over the holiday season. You can save lives by becoming a blood donor
How can I become an organ donor?
Register as an organ donor with the Organ Donor Foundation free of charge.
Write a will stating that you want to donate your organs when you die.
Tell your family about it so that they will not resist when your organs are taken.
For more information or advice, call the Department of Health: 012 312-3278, or the Organ Donor Foundation of South Africa: 021 426-0198, or 011 489-1193.
Who can donate blood?
Any healthy person between the ages of 16 and 65 who weighs 50kg or more, and who follows a healthy lifestyle can donate blood. There is no danger in donating blood and it is not painful. Before you can donate, specially trained staff will make sure that it is safe for you to donate.
For more information, contact the South African National Blood Service: 0800119031