The festive season is here and to many people this means overdoing things. During this time, more alcohol and drug related incidents and crimes are reported than usual. These include road accidents caused by drunken drivers, rape, women and child abuse, robberies and murders. Many people also forget about the risk of getting HIV and Aids when they are under the influence of drugs and alcohol.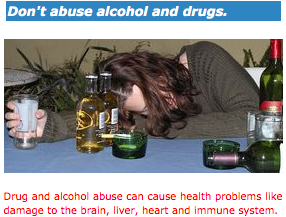 Risky drinking
Almost half of South Africa's population is affected by alcohol abuse. This was found by the World Drug Report 2006, as well as studies by the Medical Research Council. Minister of Social Development, Zola Skweyiya, said about 17,5 million South Africans were affected by "risky drinking". This means drinking first thing in the morning, drinking to get drunk or having alcoholic drinks instead of food at meal times.
Treatment
Studies also show that about 2,2 million South Africans use dagga, cocaine, heroin, speed, LSD, hashish, ecstasy, tik and other hard drugs. About 9 000 drug users were treated at 73 treatment centres in South Africa from June to December 2006 alone.
Health problems
Apart form accidents and violence, drug and alcohol abuse also cause health problems like damage to the brain, liver, heart and immune system. Studies show that about 500 000 South Africans suffer from Foetal Alcohol Syndrome Disorder. This means babies whose mothers drank a lot of alcohol during pregnancy are born with health problems like brain damage and heart defects or below average weight and height.
To encourage young people to resist drugs, the Department of Social Development started a youth programme called Ke Moja, No Thanks I'm Fine Without Drugs.
Dangers of alcohol
To raise awareness of the dangers of alcohol, the Department of Health has drawn up new regulations on alcohol. It will come into effect in early 2010 and is part of an ongoing plan to promote healthy living. In line with the new regulations, containers of alcoholic drinks must show messages giving the dangers of alcohol.
These messages must include:
Alcohol reduces driving ability, don't drink and drive.
Don't drink and walk on the road, you may be killed.
Alcohol increases your risk to personal injuries.
Alcohol is a major cause of violence and crime.
Drinking during pregnancy can be harmful to your baby.
For more information, call the Department of Social Development: 012 312 7794, or call 1020
Other useful contacts:
Alcoholics Anonymous 0861 435 722
South African National Council on Alcoholism and Drug Dependency (SANCA) 011 781 6410
Al-Anon: 011 683 8002
- Ndivhuwo Khangale