South Africa has some of the most beautiful and affordable places for tourists to see. They attract thousands of overseas visitors every year. More than five million South Africans wish to travel and have some money to do so, but many do not know where to go or how to plan for a holiday.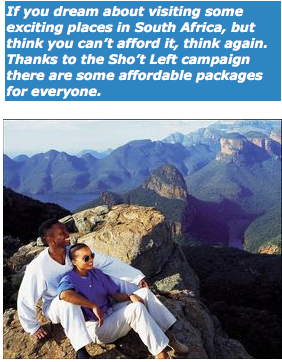 Sho't Left
SA Tourism, with the help of the Department of Environment Affairs and Tourism, started a plan to help more South Africans take affordable holidays in their own country. The Sho't Left campaign, which was first started in 2004, gives information and advice about budgeting for a holiday, places to visit, things to do and how to get there.
Affordable
SA Tourism CEO, Moeketsi Mosola, said with the 2007 Sho't Left campaign they hoped to see more local people travelling in their our beautiful country. While more and more foreign tourists visit our country, South Africans are still not aware of how affordable it is to travel locally, he said. This is why the slogan of the new Sho't Left campaign, See Your World Differently, challenges everyone to discover their own country even when visiting family and friends," Mosola said.
 There are affordable travel packages in all nine provinces. Here are a just a few examples
At the Gariep Dam in the Free State, you can stay in a nice room, do sight-seeing, have a picnic or a braai, enjoy water sport, go fishing or swimming. Call 051 430 4596.
Go to Hartebeespoort Dam in the North West and enjoy a boat ride, wine tasting, drinks and food, visit a strawberry farm and much more. Call 083 540 4000.
See hyenas, cheetahs, wild dogs, zebras, gemsbok, giraffe and other wild animals at Gauteng's Lion Park. Call 011 691 9905/6/7/8/9/10.
Gold Reef City in Gauteng offers rides, restaurants, sight-seeing, underground tours, gold pouring, historical exhibitions and children's entertainment. Call 011 381 3100.
Visit Constitution Hill and the Number 4 Prison In Johannesburg where former President Nelson Mandela, Joe Slovo, Mahatma Gandhi and many other political prisoners were held. Call 011 381 3100
Enjoy the Soweto Tour and see the Hector Peterson Memorial, Mandela Museum, Regina Mundi Church and other interesting places for R350 per person. Call 073 239 3186.
Visit Port Elizabeth in the Eastern Cape. Enjoy the beautiful beaches, go to the market square and relax in the parks. Call 011 792 1359.
For more on affordable holidays in your province, call the Tourism Helpline: 083 123 6789, or visit the website at www.southafrica.net
- Ndivhuwo Khangale