Are you a young person living in the Northern Cape and want to train for a job? The Northern Cape provincial government will place more than 5 000 young people in the National Youth Service (NYS)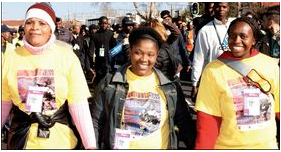 Programme aimed at fighting poverty and unemployment in the province. The programme aims to train young people in the province in the construction industry. They will also be involved in maintaining government property through government's plan to improve and repair public buildings.
Training
The programme is co-ordinated by the provincial Department of Transport, Roads and Public Works.
Speaking at the opening of the NYS programmes in Kimberly recently, Northern Cape Premier, Dipuo Peters, said the department has already chosen 500 youths for jobs. They will be given training in skills like painting, carpentry, bricklaying, plumbing, welding and electrical technology.
Job opportunities
The NYS programme is a Presidential plan that aims to create jobs and reduce poverty by getting young people to become part of government's drive to improve service delivery.
The programme was started in 2004 by the Presidency as a way to help government achieve the goals of the Joint Initiative for Priority Skills Acquisition (Jipsa).
In line with the Accelerated and Shared Growth Initiative for South Africa (AsgiSA), the programme provides the youth with ways to rebuild South African society by improving skills, creating jobs, fighting poverty, improving service delivery and maintaining government property.
or more information, contact the Northern Cape Department of Transport, Roads and Public Works on 0538392225 or 0538392240
- BuaNews
 JIPSA REACHING ITS GOALS
The Joint Initiative for Priority Skills Acquisition, better known as JIPSA, is reaching its goals. It was started about 18 months ago to grow skills that are critical for our country's growth.
By finding out which skills are most needed and finding ways to develop those skills, it is helping the country to reach its goal of 6% economic growth. This is achieved through the joint efforts of government, the private sector, and international partners.
Graduates
In the past 18 months, more and more local and international partners have joined in projects to develop skills. Companies Like Eskom, Transnet, Shoprite Checkers, Old Mutual, Xstrata, Microsoft and the American Chamber of Business (AMCHAM) have helped to place and train more than 20 000 graduates in different fields. These include hospitality, tourism, project management, construction, information and communication technology (ICT), science, finance, commerce, engineering, agriculture and town planning.
International
Through the international placement programme, more than 100 graduates are training at various centres in India. About 300 graduates will be trained in China and 150 young women professionals will be placed in companies in the Netherlands.
Training and jobs
The HP Business Institute Initiative will spend R150 million to help small black-owned ICT companies. Microsoft, Cisco and Oracle are planning to start an ICT centre for training and job placement.