South Africa's coding curriculum, currently in the pilot project phase, will help ensure that learners are equipped with skills for the changing world.
he introduction of robotics lessons at Simondium Primary School in Paarl has garnered great interest among pupils.
Robotics teacher Anthony Williams said pupils are so interested in the technological subject that he has had to hold lessons four days of the week.
During lessons, pupils are taught how to make robots that move.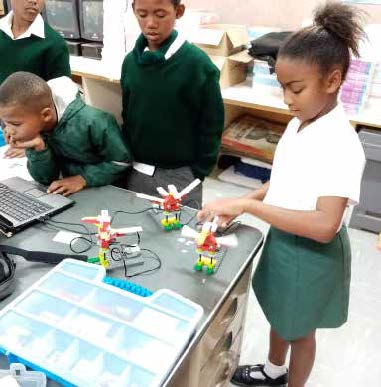 Williams said he uses Lego-like blocks to build the models and then shows his learners how to connect a motor to a computer which allows them to operate the model and have control over its movements.
"The introduction of robotics and coding as subjects in schools will enhance the capacity of his learners during technology, science and maths studies."
 He said coding and robotics will also enable pupils to be skilled for the modern job market.
Williams' class is made up of 80 Grade Six pupils who are grouped into classes of 20. The lessons are part of a Department of Basic Education (DBE) pilot project in which 1 000 schools are to teach coding and robotics as part of their syllabus.
The DBE's Chief Director of Curriculum Enhancement Programmes Seliki Tlhabane said the aim of the programme is to develop the technological skills of pupils in the era of the Fourth Industrial Revolution.
Tlhabane said schools that are not part of the initial pilot but want to participate in the programme can contact their provincial education
departments.
The full pilot will start with Grades R to Three and Grade Seven in 2020, while in 2021, Grades Four to Six and Grade Eight will form part of the pilot. Grade Nine will join the pilot project in 2022.
The 2020 pilot programme will be rolled out in Gauteng, the Free State, KwaZulu-Natal, Eastern Cape and Mpumalanga.