Fighting corruption is a commitment that should be made by all South Africans, in and outside the public sector.
Corruption is the abuse of public or private resources or power for personal gain.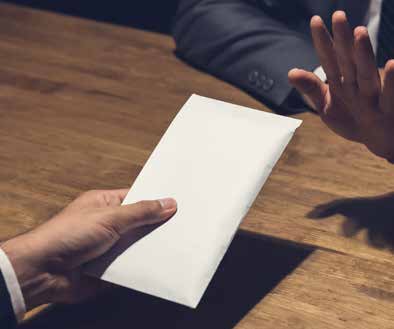 President Cyril Ramaphosa has consistently called on all South Africans to fight corruption, fraud and collusion in the private sector with the same purpose and intensity that it is tackled in the public sector.
Earlier this year, the President said: "We must remember that every time someone receives a bribe, there is someone who is prepared to pay it. We will make sure that we deal with both in an effective manner."
Government is committed to rooting out corruption in all forms in the private and public sector but cannot do this alone and has thus called on all citizens to play their part.
While the police and other arms of government are at the forefront of the fight against corruption, ordinary South Africans have their own role to play.
Government calls on all citizens to act decisively to end dishonest and fraudulent conduct.
As an citizen, you can help rid the country of corruption by not becoming involved in corrupt activities and reporting any corruption you suspect or are aware of.
 
How you can help fight corruption
Corruption is a crime and must be reported to the police.
A number of hotlines and helplines have been created by government to ensure that you can pass on information without having to reveal your identity. If the information leads to a succesful prosecution, you may be entitled to a reward. Call the Crime Stop number on 08600 10111.
Anonymous tip-offs on criminal activities can also be sent to Crime Line. You can send an SMS containing information to 32211 at a cost of R1 per SMS.
In addition to the above numbers, you can call government's National Anti-Corruption Hotline and pass on information on corrupt activities you are aware of without giving your name. The number is 0800 701 701. 
 
What are you doing to fight corruption in your community or your place of work?
Share your comments with us by emailing vukuzenzele@gcis.gov.za or posting them on our Facebook and Twitter pages:
Facebook:  @VukuzenzeleNews
Twitter:  @VukuzenzeleNews