When attending 2010 World Cup matches, we have to be aware that FIFA has certain rules that must be followed. The rules are there to make arrangements easier for fans, as well as for officials. These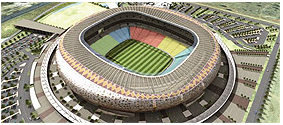 include seating arrangements like matching colour codes for seats and tickets.
The first important rule at FIFA World Cup matches is that soccer fans must make sure they have the correct ticket for the match they will be watching. They should also be on time and make sure that they sit on the specific seat number shown on the ticket.
Types of tickets
Soccer fans must remember that NO TICKETS WILL BE SOLD AT STADIUMS. No one will be allowed in the stadiums if they have a wrong ticket or no ticket.
You can buy a maximum of four tickets per match for up to seven matches. There are four different types of tickets. These tickets have different prices. This is why it is important that people sit on the seat number shown on the ticket. To make it easier for people to find their seats, the seats have different colours. The colours will also be shown on the tickets.
Stadium colour coding
All the stadiums will be colour coded in the same way to make sure that they look similar. This will ensure that people will not be confused when going to stadiums around the country to watch different matches.
FIFA has used the colour-coding process at previous World Cup tournaments and found that it worked very well
Seating colours
[ BLUE ] Main Stand:
This stand has blue seats and is reserved for the media, as well as certain important people. These are the most expensive tickets and will usually be sold out long before the matches take place.
[ GREEN ] Back Stand:
The Back Stand has green seats and is the stand opposite the Main Stand. This stand is known to be the best place to watch the matches because it has a good view. The tickets are also expensive, but will be easier to get than those for the Main Stand.
[ RED ] Home Stand:
The Home Stand has red seats and is on the left-hand side, behind the goal posts on the left. The Home Stand is not as expensive as the Main Stand or the Back Stand, but is more expensive than the Away Stand.
[ YELLOW ] Away Stand
The Away Stand has yellow seats and is on the right-hand side behind the goal posts on the left. Tickets for the Away Stand are the cheapest.