Government's efforts to encourage all sectors of society to work together to save energy, is showing results.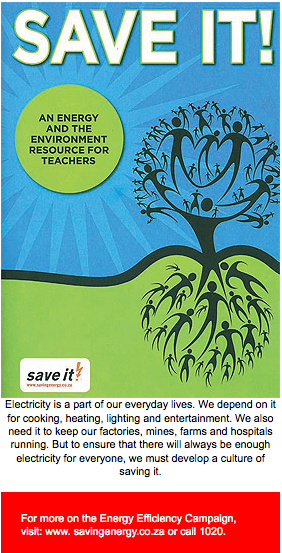 Various programmes have been started to make South Africans, including large industries like steel companies and mines, aware of the importance of saving energy.
Government working with Eskom started campaigns on radio, television and newspapers. These included useful information and energy-saving tips.
Schools
Working together with Eskom's schools programme, the campaign has been taken to schools in the form of road shows. During road shows, learners participated in fun activities like energy-efficiency games.
The schools programme resulted in a campaign called Save It! To help learners understand the Save It! campaign, government published a booklet with lessons on energy saving. It is mainly aimed at learners between Grade 4 and Grade 7.
Teaching syllabus
The Save It! booklet will form part of the teaching syllabus in schools. With the help of the booklet, learners will learn how electricity and other forms of energy work. They will also learn that certain types of energy like coal burning causes pollution, which is dangerous to the environment and to our health.
The booklet helps teachers to give learners the necessary skills and values to be energy wise.
Champions
In December last year, government also started the Summer Energy Saving Campaign. It was aimed at giving tips and advice on saving energy during the summer holiday period.
As a follow-up to the summer campaign, government started a campaign called Energy Saving Champions. It involved some famous South Africans, including actors and sporting greats to promote a culture of saving.
They focused on creating national awareness about saving electricity by being energy-saving role models.
Energy Addiction
In April, a new awareness programme was added called Energy Addiction.
The first part of the campaign aims to make South Africans aware that they sometimes use electricity without even thinking. One example is leaving your cellphone charger in the plug after charging it.
The Energy Addiction campaign carried advertisements in the media and on advertising boards showing "energy addicts".
The campaign encourages South Africans to stand together and think about their energy-using habits. It encourages them to take steps to get rid of their "energy addiction", similar to the road to recovery for substance addicts.
- Mbulelo Baloyi