Khathutshelo Kwinda was born blind, but it has never stopped her from living a full life. She believes that there is nothing wrong with blindness. Blind people can achieve anything they desire, because they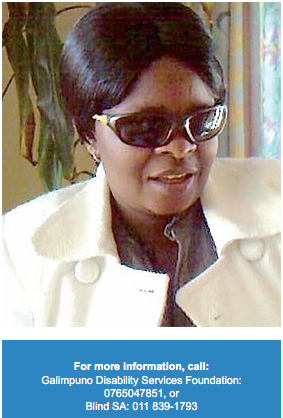 are not mentally blind. This is why she is helping other blind people to reach their dreams.
After leaving school, Khathutshelo Kwinda couldn't afford to further her studies. While in Grade 11 she had to drop out of school. Her family could no longer afford the fees for the special school she attended due to her blindness. She had to study at home to finish Grade 12. Although she couldn't fulfil her dream of studying for a degree, Kwinda didn't give up.
She believed she could make a success of her life and wanted to make a difference in other people's lives. After finishing school in 1996, she helped Blind SA to open a branch in Limpopo where she grew up. She worked hard and became chairperson of the branch.
Disability Foundation
business called Galimpuno Disability Services Foundation. She started the foundation because she wanted to empower other blind and partially sighted people.
The foundation now has offices in four provinces, namely Gauteng, Limpopo, Mpumalanga and North West. It works with the provincial governments and municipalities to identify children with special needs. It helps these children through school and with other projects like skills development.
With the co-operation of the Department of Labour, the foundation also helps disabled students to get funding to go to school, further their studies or fund other projects.
Through the foundation, Kwinda visits special schools where she talks to learners to make them aware that disability can be overcome.
Useful information
Blind and partially sighted people get help from the foundation in the form of things like learning materials and support to start their own businesses. The foundation also provides Braille literature books and calendars.
In addition, it gives useful information about what is happening in the country like the 2010 World Cup and other sporting events, elections, acts of parliament, legislation, adult basic education and Braille training.
Braille magazine
Another project run by Kwinda is a Braille magazine called Galimpuno Braille Magazine. The magazine is quarterly and is published in both Braille and print. It is free of charge and distributed in Gauteng, Limpopo, Mpumalanga and North West.
The main aim of the magazine is to inform blind people about what is happening around them. The stories in the magazine are written by blind and partially sighted people.
Construction
In addition to all her other projects, Kwinda also has a construction company. The company has worked with the Department of Housing to build RDP houses.
With her positive attitude to life, Kwinda is an inspiration to others and an example of her motto: "We can achieve anything."
- Carol Netshifhefe