The cost of road accidents in South Africa amounts to more than R46 billion per year. Young people can play an important role in reducing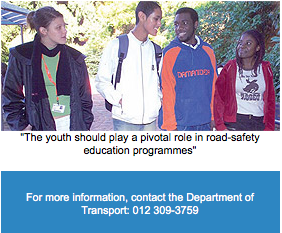 accidents by being road-safety ambassadors. The Department of Transport has therefore called upon the country's youth to get training in scare skills relating to transport and road safety.
The youth must remember that they make an important contribution to the country's social and economic development. This was Transport Minister, Sibusiso Ndebele's message to the youth ahead of Youth Day celebrations in June. He said being cautious in their daily lives should be a priority.
Among other things, young people must be aware that actions like speeding, reckless driving, drunk driving and skipping red traffic lights can lead to death. In this regard they have a responsibility to set an example to other people, especially small children who look up to them as role models. "The youth should play a pivotal role in our road-safety education programmes...," Ndebele said.
Responsibility
In line with some of the key messages during Youth Day celebrations, the Department of Transport encourages young people to take up opportunities in the transport sector, both in terms of business and careers. The department is investing in the training of youth in scarce skills relating to transport and road safety. Scarce skills in these sectors include railroad artisans, civil engineers, traffic officers, pilots, air traffic controllers and aeronautical engineers.
Training
In co-operation with other organisations, the department is currently training 150 rail artisans, 34 civil engineers, 40 air traffic controllers and 420 pilots. They are also training 10 medical doctors, 5 764 traffic officers, 20 students in road construction, eight ship surveyors and 15 civil engineers.
- Carol Netshifhefe