Long after the 2010 FIFA World Cup has gone, many communities will still be reaping the fruits of South Africa having hosted this event. Among those who will benefit is wheel-chair bound Nonhlanhla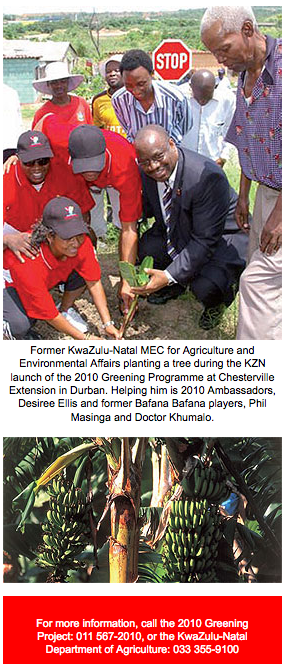 Mzila.
Nonhlanhla Mzila is a member of one of the thousands of communities who have benefited from the Government's housing programmes.
Now she is reaping the fruits of the 2010 Greening Programme as fruit trees are planted in communities to give them food, shade and beauty.
Nutritious fruit
Mzila, who is from Chesterville Extension outside Durban in KwaZulu-Natal, lost her job after she became disabled about two years ago. Since then she has been struggling to find another job.
She is very pleased that the trees will help her to feed her family by providing them with nutritious food. At the same time, it will add beauty to their home.
Food security
The programme is one of the Legacy Projects of the 2010 World Cup Organising Committee.
The Department of Water and Environmental Affairs, working with the Parks Departments of the host cities, are responsible for the 2010 Greening Programme.
The programme aims to provide food security in the long-term, while also marking South Africa's hosting of the 2010 World Cup Soccer.
The various parks departments give communities guidelines on how to plant the seedlings and care for their trees.
Seedlings
Through the programme, thousands of avocado, macadamia nut and banana trees were given to households in low-cost housing settlements.
KwaZulu-Natal South Coast households got macadamia nut and banana tree seedlings. Households in Chesterville Extension and Ndaleni Village got avocado pear seedlings.
In Soweto, the Johannesburg City Parks department planted trees in parks at Mapetla and Mofolo Parks as part of the Greening Soweto 2010 Legacy Project.
Soweto
Since the Greening Soweto Project started in September 2006, more than 50 000 indigenous trees have been planted along the streets of South Africa's largest township.
Greening Soweto aims to plant more than 300 000 trees in the township. More trees will help to beautify the landscape and create public places that bring pride and joy to residents. In addition, it will give children pleasant places to play close to their homes.
- Mbulelo Baloyi