For Joseph Modise, falling milk prices, the present economic crisis and a lack of business skills meant one thing - to forget about his dream of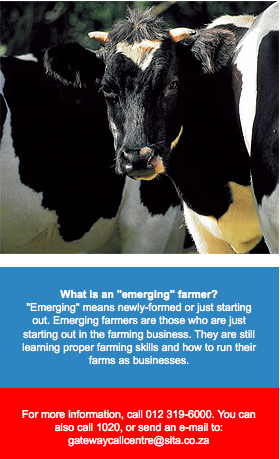 becoming a successful dairy farmer. But when the Centre for Excellence in Agriculture for Emerging Farmers was started in Heidelberg, Gauteng, he changed his mind. The centre was opened in February this year to give a helping hand to new and struggling farmers.
Joseph Modise was struggling to make a living from his dairy farm due to a lack of proper skills. But Modise, who is a land-reform beneficiary, now has an opportunity to get specialised training in farming and business skills. This is due to programmes offered by the new Centre for Excellence in Agriculture for Emerging Farmers.
The Ministry of Agriculture and Land Affairs started the Centre. The aim is to empower emerging farmers through skills training, mentoring and funding. It includes forming partnerships between successful commercial farmers and small-scale developing farmers.
The centre will also help women and young people interested in farming to link up with commercial farmers.
Empowerment project
The centre is a project between white commercial farmers, represented by the South African Cattle Exchange (SACE), and black emerging farmers, represented by the National African Farmers' Union (NAFU).
Other organisations involved include Women in Agriculture and Rural Development (WARD) and Youth in Agriculture and Rural Development (YARD), as well as local subsistence farmers.
The centre will focus on:
identifying emerging black farmers, including women, youth and land-reform beneficiaries, who show promise of becoming commercial farmers
training of these farmers
finding land and loans for the graduates to start their own businesses
ensuring that graduates get 24-hour mentoring at the centre
linking up new graduates with markets like big food manufacturing companies.
Training
Apart from training emerging black farmers, the centre will also train other struggling dairy farmers, pig farmers and grain producers.
The Agricultural Research Council (ARC) will help with the training of the centre's staff.
Latest technology
The centre will use the latest farming and business technology. It will include taking records of how dairy cows perform, setting production goals and applying proper reproduction methods.
The department believes that the partnership between commercial farmers and emerging farmers will play an important role in developing successful farming businesses. It will also help beneficiaries of land-reform programmes to use their land productively.
The aims of the centre are in line with government's policy of skills development.
- Mbulelo Baloyi