Written by More Matshediso
Government is determined that no post-school student shall be left behind as innovative ways are found to forge ahead despite the coronavirus pandemic.
Educational websites of public institutions of higher education and training have been zero-rated.
This was a result of a collaboration between the Department of Higher Education and Training, the Department of Communications and Digital Technologies and electronic network providers, including mobile network operators.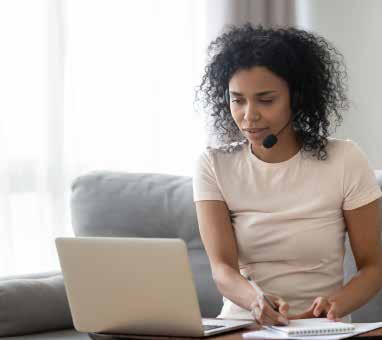 This means that access to these websites will be free, although some of the embedded content, like YouTube and videos, will be charged for.
The initiative will benefit students who have enrolled in public universities, technical vocational education and training (TVET) colleges, community education and training colleges, agricultural colleges and nursing colleges.
 The announcement was made by Higher Education and Training Minister Blade Nzimande when he spoke about the implementation of measures in the post-school education sector in response to the coronavirus (COVID-19) pandemic.
"This is a huge step forward and highlighted the effective collaboration between the department and the telecommunications sector. The next step is to make data bundles available to all National Student Financial Aid Scheme (NSFAS) students in universities and TVET colleges," the Minister said.
Data rates
The data bundles will be used to access additional content that is not covered under the zero-rating agreement.
Minister Nzimande said the department has successfully negotiated with all mobile network operators for favourable rates for NSFAS students, including Funza Lushaka students who will receive 10GB day-time and 20GB night-time data for three months, until the end of August. This will be subsidised by government.
He said the department has acknowledged that the cost of connectivity remains a huge barrier for students when it comes to digital learning. To further address this challenge, Minister Nzimande aims to supply an appropriate digital device, most likely a tablet, to NSFAS students registered at public institutions.
He said access to technology will better prepare students for the modern economy.
While the department acknowledges that many students not receiving NSFAS funding have also been financially hard hit by the COVID-19 pandemic, government is unfortunately not in a position to subsidise them. However, he appealed to mobile network operators to work with learning institutions in offering students affordable device-data packages. An affordable higher education loan scheme involving the private sector is also being considered.
Registering cellphone numbers
Minister Nzimande reminded NSFAS and Funza Lushaka students to ensure they register their cellphone numbers with their respective institutions to receive their free data.
"We advise that during this period, they must not change their sim-cards so as to enable network operators, through their institutions, to load data to their devices," he said.
"I just want to emphasise that this data that needy students will receive must be used for dedicated online educational platforms for teaching and learning, as approved by institutions," he added.
He said the department has also made free digital content available specifically to TVET college students through the department's website, the National Open Learning System, institutional websites and other sites. Students will be able to access digital materials which will help them prepare for exams.
Minister Nzimande said universities will be delivering paper-based teaching and learning materials to students who do not have the resources to engage electronically or online.
"The physical delivery of learning materials is one aspect of our multimodal approach that many of our universities are implementing," he said.
However, the Minister said the implementation of this intervention depends on each university's assessment of the number of students that require this kind of support.
"Some universities have already issued their students with laptops – some as part of their normal policies, others as a response to COVID-19. A lot of work had to be undertaken to quantify the exact number and location of students who still need to be issued with devices," he said.
He added that work has been completed and procurement will commence as soon as the approval of the Minister of Finance is received.
During the lockdown, NSFAS remains fully operational and continues to disburse allowances to all NSFAS beneficiaries.
Students who have enquiries or complaints, can call the department's call centre at 0800 872 222 or the NSFAS toll-free line at 0800 067 327 or World Skills South Africa 's contact centre at  086 999 0125.