Victims of farm evictions near Roodepoort in Johannesburg were relieved to be given new electrified homes after living in a tented settlement for over four years.
Living in tents made it difficult for them to adhere to some of government's coronavirus (COVID-19) regulations, such as social distancing and practising safe hygiene.
Less than two months after Human Settlements Minister Lindiwe Sisulu visited the area, the Ikemeleng community moved into their new homes in May.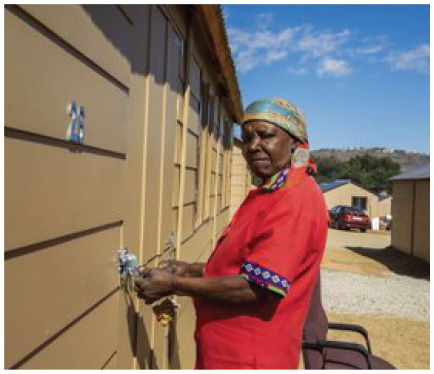 Emotions were high when the over 70 temporary residential units (TRUs) were handed over by Minister Sisulu, who was accompanied by Gauteng MEC for Human Settlements, Urban Planning, Cooperative Governance and Traditional Affairs Lebogang Maile.
According to the department, the COVID-19 pandemic has put pressure on government to find housing solutions for people currently living in overcrowded areas.
Already, 29 densely populated informal settlements have been identified across the country and work is under way to ease congestion in these areas by providing new homes, constructed using alternative building technology (ABT).
Minister Sisulu says the use of ABT is yet to be embraced by everyone in society as the majority still prefer brick and mortar. However, she believes that ABT results in decent homes and saves time. Should the technology become the norm, government will be able to build more houses within a shorter period of time.
TRUs are being erected countrywide, in high density areas. One of the priority projects is the construction of 1 000 units at the Mamelodi hostels, which is home to over 8 000 people.
The Gauteng Provincial Government has started allocating and handing over 1 500 units to qualifying beneficiaries in Merafong Local Municipality. The department says beneficiaries will mainly come from Khutsong and Kokosi informal settlements.
There are a number of housing projects which have been completed across the country and Minister Sisulu and the respective MECs have issued a directive that there should be no delay in handing them over to beneficiaries.
These interventions are aimed at improving the living conditions of informal settlement residents while enabling them to effectively practise social distancing as South Africa continues to try to flatten the curve of COVID-19 infections.