Farmers in the Joe Gqabi District in the Eastern Cape have welcomed the provincial government's efforts to help them deal with the effects of the recent drought through the feedlots programme.
A feedlot is a type of animal feeding operation which is used in intensive animal farming for livestock prior to slaughter.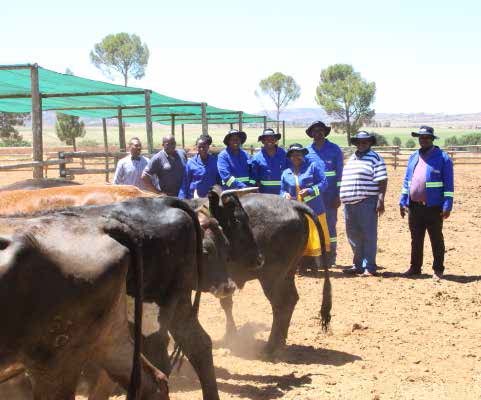 The provincial Rural Development and Agrarian Reform (DRDAR) MEC Xolile Nqatha recently launched a feedlot to the tune of R2.7-million in the Walter Sisulu Municipality, as part of the agriculture economic transformation strategy. The strategy seeks to commercialise agriculture in the province.
The feedlot has a capacity to accommodate 300 cattle at a time and is one of the 12 feedlots currently operational in the province. The department has also partnered with the National Agricultural Marketing Council (NAMC) and local municipalities to improve the quality of livestock in the province.
Communal farmers have the ability to take their livestock to the DRDAR-funded feedlots for fattening over a period of 120 days for a standard fee of about R900. Once the cattle are ready for commercial markets they are sold to abattoirs or private buyers, yielding more profits for farmers.
Chairperson of Walter Sisulu Secondary Co-op, which is managing the feedlot, Nopice Sefatsa, said the feedlot wouldl bring much-needed relief.
"We need to create our own fodder banks as feedlots because that will mitigate the drought conditions. We are thankful to the department for this infrastructure and we want to commit ourselves that we will never let this be a white elephant," Sefatsa said.
Speaking at the launch, MEC Nqatha said; "Government is committed to ensuring emerging farmers are developed to become fully fledged commercial farmers because we cannot have emerging farmers forever. By constructing this feedlot, we want to change the economic landscape of this district. We want farmers to form a movement to fight against poverty and inequality, a movement that will ensure economic transformation."
This financial year, DRDAR has invested R16.5 million to increase the number of feedlots across the province.
The department is supporting 11 rural custom feedlots that target communal farmers which are in the Chris Hani, Amathole and the OR Tambo districts.
MEC Nqatha also said government was aware of the extent of the drought and how this was affecting farmers in Joe Gqabi and other districts.