The South African site of the Square Kilometre Array (SKA), in the Northern Cape is one of the country's biggest scientific projects.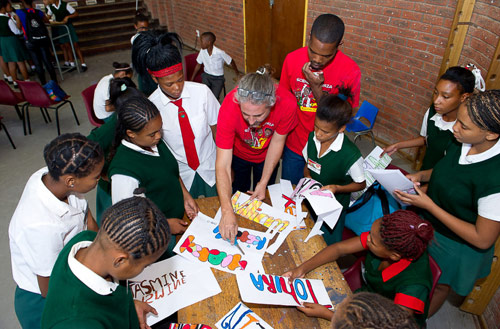 The project is providing skills training and work opportunities to thousands of people while also encouraging education in science and mathematics through various school outreach and university bursary programmes.
The South African Radio Astronomy Observatory (SARAO) manages the SKA under the Research and Development Foundation. One of its priorities is the skills development of young artisans at a training centre in the small town of Carnarvon.
The centre teaches skills such as fitting and turning, diesel mechanics, electrical installations, boiler-making, plumbing, Information Technology and carpentry.
Davan Hoorn is one of the young people who has benefitted from the artisan training programme. In 2017, he qualified to be a fitter and turner at the site of the SKA after passing his trade test.
Hoorn was raised in Atlantis, but moved to Carnarvon when he heard about the opportunities available with the SKA. Hoorn was raised in Atlantis, but moved to Carnarvon when he heard about the opportunities available with the SKA.
He first worked as part of a sub-contractor's team and then received training to become a welder. Although he had some experience with engineering and electrical installations, he did not have a formal qualification.
"The artisan programme with SKA gave me the opportunity to qualify. I would like to use this qualification as a springboard to my dream of becoming a mechanical engineer," says Hoorn.
The SKA is a global radio telescope project with 11 member countries. When completed, the telescopes will be able to explore the universe better than ever before. So far, the project in South Africa has created more than 7 200 jobs.
In terms of education, more than 1 000 students have received bursaries to study science and engineering at universities. Throughout the year, SARAO visits schools in the Northern Cape to help recruit mathematics and science teachers, equip science labs and encourage learning in science fields through events such as expos, competitions and field trips.
"SARAO is committed to working with the communities close by and are focused on investing in the youth, supporting community upliftment programmes, developing small to medium enterprises, nurturing learners' talents, and
developing supplementary communications systems," said SARAO Managing Director, Dr Rob Adam.
Adam also said of the R760 million spent on establishing infrastructure for the MeerKAT Radio Telescope, approximately R306 million was spent in the Northern Cape.