From dusty village streets to international arenas, Proteas cricketer Ayabonga Khaka has had the journey of a lifetime as a professional sportswoman.
hen Ayabonga Khaka (27) started playing cricket as a young village girl, she had no idea that she would one day represent her country.
The Proteas fast bowler said that becoming a professional sportswoman is less daunting today than when she started out.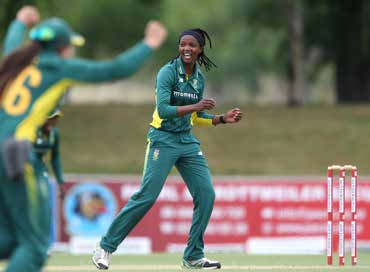 "Young girls can and should pursue sporting careers now. There are structures in place and professional leagues are developing. For example, the 14 of us who play for the Proteas have contracts with the team and do not have outside jobs," said Khaka.
"Young girls must learn to make their own decisions. You can't let people discourage you from what you want to do. I know that parents often advise us that a sports career is too short, but at the end of the day you must make your own decisions."
The cricketer signed her first contract with the Proteas in 2014, having played for the team since 2012. "I somewhat expected the call-up to the team because I had been playing very well but I still worked hard for it," she said.
She said in her debut match against Bangladesh, she was surprised to see 15 000 people had filled up the stadium to watch the game.
Khaka, who has taken 62 wickets while scoring 79 runs in 54 games for the national team, started playing cricket in the rural town of Middledrift in the Eastern Cape, where she would join the village boys in their games of soccer, rugby and cricket.
"It was in primary school that I started to focus more on cricket," she said.
Despite not having access to decent sporting facilities, she continued to excel in the game and when she was 15, Border Women's Cricket signed her up to play for their under 19 team after spotting her in action in a club cricket game.
Khaka, who holds a Bachelor of Health in Human Movement Science from the University of Fort Hare, said young girls who want a sports career should not neglect their academic studies because it is always wise to have a back-up plan.
As South Africa celebrates Women's Month Khaka said women should work together to fight Gender-Based Violence. "Women's Month for me means that we should come together as the women of South Africa
to fight social ills taking place
in our society every day," she said.