Employment news
The Eastern Cape aims to create a total of 116 958 jobs this year.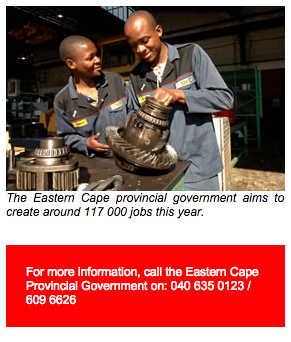 Premier Noxolo Kiviet said although the country's unemployment rate had decreased, the provincial unemployment rate of 27,1 per cent was still high. "However, we are pleased to report that out of a target of 94 504 job opportunities announced for Phase 2 of the Expanded Public Works Programme, a total of 110 472 work opportunities have to date been created in the province. In the coming financial year, our target is to create 116 958 work opportunities."
Despite the uncertainty in the global economy, the province's two Industrial Development Zones (IDZs) were delivering much-needed investment. 
The East London IDZ is securing private investors to the tune of R4,063 billion in various sectors including the automobile, renewable energy and business process outsourcing sectors.
Green economy
Of the more than R4 billion, R3,3 billion is earmarked for two renewable energy projects – he Langa Renewable Energy Project in Berlin and the Ikhwezi Photovoltaic Project. "It is clear that our focus on the green economy is starting to pay dividends," said Kiviet.
In the other zone, the Coega IDZ, 3 645 construction jobs, and 2 985 direct jobs have been created. 
An additional a R7,6 billion projects are in the pipeline.
The province has already conducted feasibility studies for the construction of a dam to be built in the former Transkei part of the province, using the Umzimvubu River as the source to expand agricultural production.
"Other water infrastructure development projects include seawater desalination in Port Elizabeth and Port Alfred," Premier Kiviet explained.
Energy infrastructure
In the meantime, the province has concluded talks with power parastatal Eskom to invest over R10 billion in energy infrastructure over the next six years. This includes the increasing transfer of power to the Nelson Mandela Bay and Buffalo City Metropolitan Municipalities. It will also strengthen the integration of the KwaZulu-Natal-East London line, which will improve energy supply to Mthatha and the rest of the province.
"We are pleased to announce that the Alfred Nzo region will be serviced by Eskom in the Eastern Cape, and no longer KZN as it has been the case," said Kiviet.
Regarding road infrastructure, jobs will be created with the construction of the N2 Wild Coast, which will cost approximately R9 billion. 
"It is estimated that this project will create well in excess of 6 800 direct jobs and open up the Wild Coast and key towns such as Port St Johns for investment and economic development."
-BuaNews