Employment news
Better trains to steam in soon
A passenger rail transport system that will make South Africans proud will soon be on track. In addition, some 65 000 jobs will be created.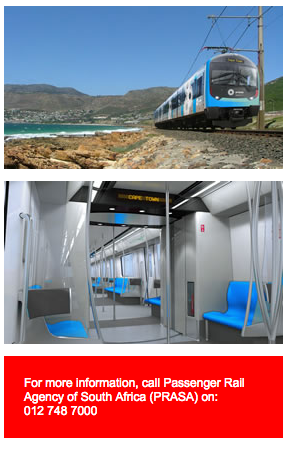 The Passenger Rail Agency of South Africa (Prasa),  which is responsible for the provision of passenger rail services, has rolled out a Stock Fleet Renewal Programme aimed at bringing passenger rail services up to standard and creating jobs.
A study has found that trains used by Metrorail, a division within Prasa, has aged beyond its economic life. This has led to high maintenance and refurbishment costs, inefficient rail service, customer delays and customer dissatisfaction.
The study also pointed out that it would be uneconomical for Prasa to continue with the existing rolling stock (locomotives,railroad cars and coaches) fleet and that the entire fleet needed to be replaced.
New coaches
"The people of South Africa must have a mode of transport that they will be proud of," said Prasa CEO Lucky Montana. He said some of Prasa's trains were built more than 50 years ago and desperately needed to be replaced with more efficient coaches and locomotives.
Some of the old coaches will become museum pieces at railway stations and others will be leased to other African countries. 
The renewal programme will see an estimated 7 224 passenger coaches being bought and introduced into Metrorail between 2015 and 2035, over a period of 20 years.
Montana said the new trains would look completely different from the ones currently in use; they would be fitted with public announcement systems and information screens indicating the name of the station that the train was approaching and would be more energy efficient.
Local content
Two 10-year contracts will be awarded to manage the local content aspect of the project, which it is hoped will exceed 70 per cent. 
The total cost of R136 billion will see the project create 65 000 direct and indirect jobs.
Of the total amount, R13 billion will be spent on infrastructure development and about  R3 billion on the construction of new depots in Cape Town and Gauteng.
The first new trains are expected by 2015. Metrorail expects to receive in the region of 500 to 600 coaches a year until 2032.
-Samona Murugan