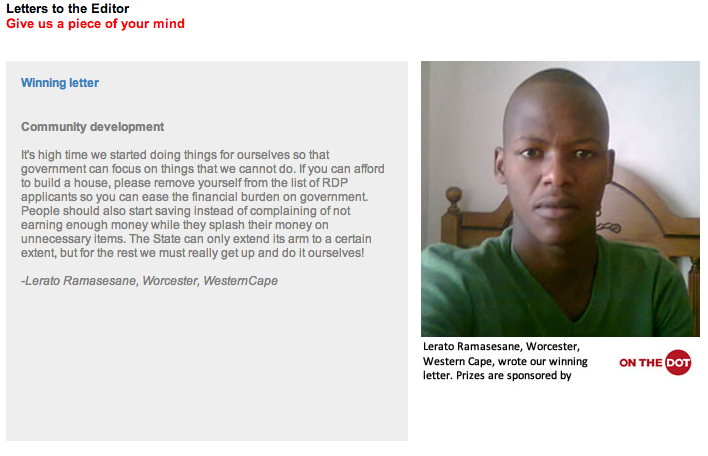 Respect people with disabilities
I am very disappointed with the way we as South Africans behave towards our sisters and brothers with disabilities. In my opinion we must not call them cripples nor should we call them disabled people. Although a person does have a particular disability, we must refer to him or her as a person with disability. When we refer to people with disabilities as "disabled people" we imply that they are unable to do anything, even though they may have only one disability and lead a full and active life.
It is our responsibility as a nation to show them the respect they deserve. Some of them are robbed of their pension money by their relatives or people known to them because they are vulnerable. Some of them are even raped or abused. 
Let us stand up as nation and consider this as a matter that needs our special and urgent attention. if you suspect that a person with a disability may be mistreated, please notify the necessary organisation. By doing so, we will motivate our people with disabilities and show them that they are valued members of our loving South African nation.
–Sello Matlhaji, Hammanskraal, Gauteng
Anything is possible
We are living in a world that has opportunities and so much talent, and yet some people say they can't make it. But remember, the only thing that counts is how you look at yourself, how you set your mind in reaching your goals. Even if people tell you that you are not good enough, remember the more they talk bad about you, the harder you must try to become better at what you do best. 
Don't sell yourself short, don't let negative people pull you down; in fact if you are surrounded by negative people, just cut them out of your lives and delete them from your social network. You will see that by being positive and believing in yourself anything is possible.
–Thabo Sempe, Excelsior, Free State