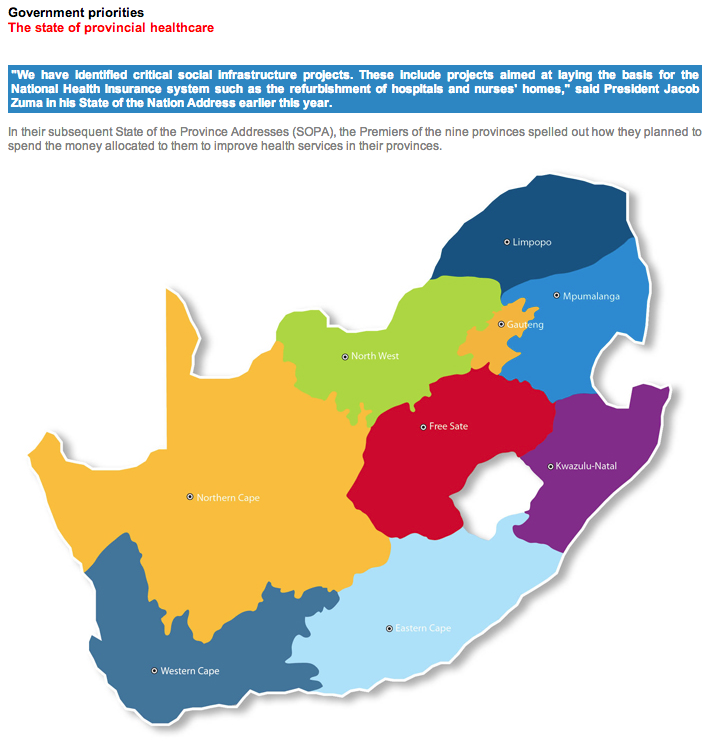 Northern Cape
Students in various categories of healthcare are currently serving their contractual obligations towards the Northern Cape Department of Health. They comprise 11 dental assistants, 23 basic ambulance assistants and 11 graduates on the Cuban Programme who have completed their studies as medical practitioners. A further 12 students have been accepted into the Cuban Programme and have started with their studies. In total, 64 students are studying towards their medical degrees at various institutions. 
To supplement the much-depleted nursing corps, 154 students are studying towards the four-year Comprehensive Training Degree. In addition, the Mapoteng, Riemvasmaak, Boichoko and Grootmier Clinics have been completed, the West End Hospital State Patients Unit has been upgraded, the De Aar and Upington hospitals are being built and the new Kimberley Hospital is in the design phase. Additional clinics are being built at Deurham and Ka-Gung and a clinic is planned for Heuningsvlei. 
... for more info call: 018 387 5778
Western Cape
The construction of Khayelitsha District Hospital has been completed and will be officially opened on 17 April, said Premier Helen Zille. The first patients have already been transferred to the new facility and the 24-hour emergency centre, as well as the obstetrics and paediatrics wards are fully operational. The construction of Mitchell's Plain District Hospital is also on track and will be fully commissioned by March 2013, the Premier added.
A number of district hospitals and clinics have also been renovated and upgraded. These include ARV treatment facilities at the Crossroads, Gugulethu and Retreat clinics, as well as repairs to district hospitals in Beaufort West, Vredendal and Riversdale. 
The Valkenberg Hospital is earmarked for a R1 billion revamp, which will include 17 buildings to be added to the complex and an increase in the bed capacity from 92 to 432. This will contribute towards better care for psychiatric patients and drastically reduce the waiting lists of awaiting trial prisoners who need psychiatric observation. The project will be completed by July 2016.
 
... for more info call: 021 483 5624
Free State
On the provision of primary health care, Free State Premier Ace Magashule said the Provincial Health Department would continue to improve primary healthcare in all districts and municipalities. 
Special attention would be given to better access to primary healthcare services, especially through outreach programmes to households and communities, he addedd. This will include the employment of 600 fully trained community health workers into family health teams in 47 wards within the province. In addition, community health centres would be established at Pelonomi Hospital in Bloemfontein, as well as in Zastron, Sasolburg and QwaQwa, he said. 
"The maintenance of health facilities in the province will continue to receive priority attention," the Premier added. The province plans to build new hospitals in Bloemfontein, Amelia in Sasolburg and in the rural areas of Qwaqwa and Botshabelo. The Qwaqwa area in the eastern part of the province has been selected as one of the pilot sites for the National Health Insurance (NHI).
 
... for more info call: 0800 535 554
North West 
Premier Thandi Modise said work was progressing on the new Bophelong Psychiatric Hospital and the hospital building project is expected to be completed this year. In addition, the Provincial Government will use the hospital revitalisation grant to upgrade Lichtenburg Hospital and its nursing college, as well as staff accommodation for the Brits Hospital. The revitalisation grant will also be used to refurbish the Moses Kotane, Potchefstroom and Taung Nursing Colleges.
Extensions of facilities will also be completed at Mmabatho and Excelsius nursing colleges. In addition, the revitalisation grant will be used to renovate Buxton, Tweelingspan and Moshana clinics and to build four community health centres at Sikhing, Maquassi Hills, Mathibestada and Joubertina.
Eastern Cape 
The Eastern Cape Department of Health is continuing to work intensively on its multi-year turnaround programme. The province has been allocated R15,1 billion to help the department prepare for its National Health Insurance (NHI) readiness programme and to retain much-needed skilled doctors and health professionals. 
MEC for Provincial Planning and Finance, Phumulo Masualle, who presented the provincial budget of R56,2 billion, said the province was making steady progress in its readiness for the NHI. 
The budget will also be used to complete the Cecilia Makhiwane Phase 3 project, which is the provision of a training college and accommodation for nurses. A new tertiary hospital complex will also be built, while health infrastructure and equipment will be upgraded and maintained.
The province is also making steady progress with the treatment and prevention of HIV and AIDS and TB with the rate of new infections stabilising.
... for more info call: 0800 032 364
Limpopo
The Limpopo Provincial Government has been hard at work intensifying the fight against HIV and AIDS by increasing the number of healthcare centres and offering comprehensive HIV and AIDS treatment. "In 2009, we had only 80 healthcare centres with necessary facilities to offer comprehensive HIV and AIDS treatment; now we have 483 centres accredited to offer the treatment to our people and we are determined to increase this number," said Premier Cassell Mathale.
"We will also continue devoting special attention to diseases such as diabetes, tuberculosis, malaria and others. These diseases are affecting many of our people and we have a responsibility to reduce and curb them."
Siloam Hospital will also be revitalised at a cost of R250 million through the Presidential Infrastructure Coordinating Commission. 
... for more info call: 0800 919 9191
Mpumalanga
In preparation for the National Health Insurance (NHI), seven community health centres and clinics will be built and existing facilities upgraded. Premier David Mabuza said all health facilities in the province are implementing quality improvement plans in line with the core standards for NHI compliance.
Qualified professionals will be appointed to manage health facilities, while training of nurses, pharmacists and allied health professionals will be accelerated. An efficient and effective system for drug supply management and distribution will also be introduced.
Other measures will include improving access to healthcare centres, conducting 50 000 male medical circumcisions, expanding the HIV Counselling and Testing Programme and improving the tuberculosis cure rate. 
In addition, the Bethal, Carolina, Matibidi, Sabi and Mmamentlake hospitals in Dr JS Moroka Local Municipality will be upgraded. Community health centres and clinics will be built at Tweefontein, Phosa Village, Sinqobile, Mbhejeka, Pankop, Wakkerstroom and Siyathemba.
... for more info call: 0800 204 098
Gauteng
As part of the Gauteng Department of Health's new comprehensive turnaround strategy to improve the delivery of public health services, measures will be put into place to prevent a recurrence of the financial difficulties within the province's Health Department. 
Gauteng Premier Nomvula Mokonyane announced some changes to the composition of her government by appointing a separate MEC for the provincial Department of Health. 
In addition, more than 200 community service doctors will be deployed in district health services and regional hospitals to benefit the province's poorest communities.
In line with the turnaround strategy, the construction of the Zola/Jabulani Hospital and the Natalspruit Hospital should be completed by October this year. 
To eliminate wastage, the department introduced an electronic gate-keeping system to manage tests that are ordered from the National Health Laboratory Services. Mekgwe said since the start of the pilot late last year at Chris Hani Baragwanath Academic Hospital, the hospital has saved R40 000 a month in unnecessary tests.
 
... for more info call: 0800 203 886
KwaZulu-Natala
Part of this year's provincial budget of R15 billion, will go towards improving health infrastructure. Among the projects earmarked are construction and extension of health facilities in Estcourt, Madadeni Psychiatric Hospital and Empangeni group of hospitals, as well as the design of John Dube Hospital and several clinics. Work has already started on the construction of King Edward VIII Hospital and the Addington Hospital.
Premier Zweli Mkhize said the province was also making steady progress in the battle against HIV and AIDS. To this end, the prevalence of HIV among women has dropped and is stabilising, more than two million people have undergone voluntary counselling and testing and medical circumcision has exceeded 105 500. 
"The achievements are as a result of added value created by the multiple stakeholder participation in the Provincial Councils on AIDS that directs all sectors," the premier said.
... for more info call: 033 395 2009