Government priorities
The Department of Basic Education celebrated the 12th anniversary of its National Teaching Awards this year.
This signifies "a landmark calendar event for the South African community to pay tribute, appreciate and salute teachers whose extraordinary efforts and contribution are the pride of the nation", said Minister of Basic Education, Angie Motshekga at the awards ceremony. 
She said teachers who received the awards played a vital role in shaping our future leaders. "To the winners, we hope your candle will light other candles in pursuit of quality learning and teaching'" the Minister added.
The theme for this year's awards is 'Celebrating the heroes of yesterday, recognising today's achievements and motivating teachers for tomorrow.'
Mmipe George Mokgehle, Toronto Primary School, Limpopo

Lifetime Achievement Award
With more than 32 years' experience as a teacher, one could easily dismiss Mmipe George Mokgehle as one of the traditionalists of the profession. However, he is one of the few who have embraced technology in the classroom and harnessed it to deliver innovative lessons of a high standard. 
Mokgehle, who has been at Toronto Primary for 7 years, teaches Technology and Computer Systems to Grade 7 learners. He says Technology is the best thing to have happened to teaching; it has revolutionised the profession and brought energy and innovation. 
His particular area of focus is indigenous knowledge systems in biodiversity conservation where his learners conduct research on indigenous herbs and trees in the school garden. 
Mokgehle makes sure other schools in his area also benefit from his information technology skills. Through his network he has made it possible for 47 schools to receive 21 computers and printers each and has also organised computer training for about 200 teachers at these schools. 
He has received several awards in recognition of his creative use of technology. These include Best Presentation of Maths and Afrikaans in 1987, ISPA ICT Champion, Super Teacher of the Year, Microsoft Peer Review and ICT Top Teacher in Africa. 
"I wanted to help unleash the potential in children, especially those from poor backgrounds, to use education as a way of breaking out of the cycle of poverty and hopelessness. I want every child who passes through my hands to become part of the knowledge community and, more importantly, to be a responsible citizen."
Shehnaz Essop Saloojee, Zinniaville Secondary School, North West
Excellence in Primary School Teaching Award
Shehnaz Saloojee believes teaching is not a profession but a calling. As such, a teacher should always focus on giving the best possible education to children. "When I leave this world, I want to be remembered as someone who taught my learners how to read and write; not for the clothes I wore, the car I drove or the house I lived in," she says.
Saloojee, a Grade 6 and 7 English teacher, has gained valuable experience and insight during her teaching career of 26 years. She believes children should be equipped with the latest skills to prepare them for today's technologically challenging world. 
The school caters for learners from mostly poor households and the majority cannot speak English. Saloojee ensures that her lessons are activity driven and uses relevant teaching aids and visuals. She also introduced "peer-tutoring" and "paired-reading" groups to promote a culture of reading among learners. 
"I find involving learners in real-life situations and practical classroom activities very effective," she says. 
Selfless and caring by nature, Saloojee has spread her love by adopting one of her learners infected with HIV.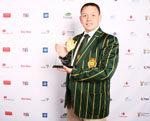 Francois Naudé, Hoërskool Florida, Gauteng
Excellence in Secondary School Teaching Award
Francois Naudé is a qualified zoologist who should be rubbing shoulders with eminent professors at a university laboratory. Instead, he opted for a profession he finds more fulfilling: teaching. A Grade 8 to 12 Life Sciences teacher, Naudé realised he would make a good teacher when he was teaching first-year students during his fourth year at the University of Johannesburg. 
"The students and some of my friends told me how good I was at explaining things and I decided to give it a try. I've never looked back." Naudé believes the school environment complements his love for working with children and his interest in sport, culture and community service. 
"It is the only place where all these spheres come together," he says. His preferred teaching method is using the latest technology such as You Tube, music, movies and games, as well as a good dose of humour. He also believes in the importance of demonstrating theoretical information through practical experiments. 
Naudé says learners' ignorance of the negative influence of HIV and Aids is a major challenge. Most of them think it is something that will never happen to them. Gender stereotyping is another challenge. "Young girls, for example, still associate science and technology with white males. This is why is I encourage them to follow their passions, work hard and believe in themselves."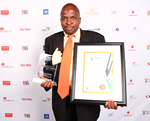 Sentsho Rapoo, Bachana Mokwena Primary School, Gauteng
Excellence in Primary School Leadership Award
When Sentsho Rapoo became principal of Bachana Mokwena Primary School in 2006, he brought with him a wealth of practical experience and ideas on how to establish an effective teaching and learning environment. This included setting up a computer centre and growing a food garden to feed disadvantaged learners. 
When he arrived at Bachana Primary, an RDP residence, there was not "a single scrap of furniture," he says. Engaging parents to organise chairs and mobilising businesses to support the school with resources, Rapoo also approached a number of companies to donate items. The Department of Agriculture installed a borehole and provided some farming equipment, which helped them to start a vegetable garden. 
Today, the school is rated Level 4 in quality assurance by the External School Evaluation System and is the only school in the district with that ranking. 
"We set clearly defined, measurable targets and we have a monitoring system in place. There are also incentives such as academic regalia for learners when they complete a grade."
Rapoo, who has 700 learners under his wing, says his biggest challenge now is that everyone wants to bring their children to his school!
Velaphi Simon Magwa, Phillipolis high School, Free State
Excellence in Secondary School Leadership Award
Velaphi Magwa's approach to leading a school is based Velaphi Magwa's approach to leading a school is based on three principles: "Be in class on time, teach and know your learners' home situation."
Magwa is head of a no-fee school with 308 learners. and describes his leadership style as democratic and transparent, especially when it comes to issues of finance. "I believe in keeping people informed and having a sense of ownership of their roles in the school," he explains.
Since taking over in 2007, he has managed to reduce the problems that impeded good performance dramatically. Under his leadership, challenges such as ethnic tension, drug abuse and low parental participation are dwindling, while academic performance is increasing every year. 
In 2010, the general pass rate was 94 per cent and in 2011 it increased to just under 97 per cent. Magwa attributes this to involving parents and the community in the school's activities and motivating them to take ownership of the school. 
Magwa attributes his success and winning the award to the support of the community; without them he would not have been able to raise the profile of the school to where it is today.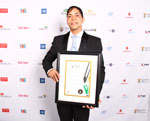 Leigh Michael Dunn, Formosa Primary School, Western Cape
Excellence in Special Needs Teaching Award
As a special-needs teacher at Formosa Primary SchAs a special-needs teacher at Formosa Primary School, Leigh Dunn's motto is: "Even the smallest star can shine in the darkness." The energy he exudes, his accomplishments so far and his vision for his learners' future make him a beacon of hope at the school. "We should never underestimate even the least significant of our learners," he says.
Learners at Formosa are from different socio-economic backgrounds and have a wide spectrum of learning challenges. To cater for these special needs, Dunn designed a curriculum that is specific to each need and includes elements such as developed pre-reading activities, school readiness activities and basic skills such as learning how to handle a pen. An example of his curriculum is the use of art to teach mathematics. 
Working closely with NGOs for expertise, support and sponsorship helps Dunn to accomplish this challenging task. 
Nelson Mandela, who achieved greatness despite the odds of growing up in a deep rural area in apartheid South Africa has always been an inspsiration to him. "If one man from humble beginnings can change a country, my vision can change the world."
He is very pleased that Parliament has employed physically challenged people, including the blind. "This gives me encouragement that in my classroom there could be world leaders in the making."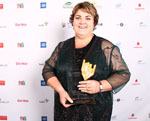 Belinda Harmse, Woel en Werkskaf Pre-Primary School, North West
Excellence in Grade R Teaching Award
"It is not how much we do as teachers, but how much love we put in the doing. It is not how much we give, but how much love we put in giving," says Belinda Harmse, who has been at Woel en Werskaf Pre-Primary School for five years. 
"The task of a teacher is to polish each and every gem [child] for God," she adds.
Harmse, who has been a teacher for 24 years, knew this was what she wanted to do from the age of 10. "I know where my heart lies. I just cannot to do any job other than teaching." Even when her brother asked her to manage his coffee shop in Hermanus near Cape Town, she turned his offer down. 
She believes that every child learns and behaves better when he or she receives a high level of trust, acceptance and generosity from their teachers; in Grade R the most important thing is to help children develop a positive self-image and to believe that they are winners. 
Harmse's teaching methods also include peer group learning and fantasy play. Peer group learning involves teaching learners about the importance of working together and helping one another. Fantasy play exposes children to a wide range of career options they can pursue when they leave school.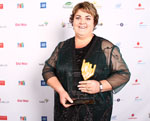 Bernadette Joy Bailey, Worcester Community Learning Centre, Western Cape
Excellence in Adult Basic Education and Training (Abet) Award
The energy and enthusiasm Bernadette Bailey exudes as the head of 13 different Abet sites in Worcester is inspiring. Not surprisingly, she has received several accolades for her work, including merit awards, scholarships, Abet awards and a an a award for the best skills centre of the year. 
In addition to supervising the 13 Abet sites, Bailey is also a substitute teacher at her resident site, Worcester Community Learning Centre. The centre, which teaches Level 1 to 4 and Grade 12, offer a wide variety of activities, ranging from sports to computer literacy courses, growing vegetables and teaching small, medium and micro-enterprise development. 
Bailey's mission is to raise awareness of the value of adult education. "We are tapping into the government's five-point system," she says. Her concern is that the Abet system is generally undermined by those who see it as worthless. She would therefore like to see the term changed to something more meaningful. 
Constant monitoring and evaluation is at the top of Bailey's list of priorities to keep optimum levels of efficiency. This gives the centre the edge to remain on top of things and to perform well.
For more information, call the Department of Basic Education: 012 357 3000 or Hotline 0800 202 933.
-Samona Murugan