Employment news
National study loans change lives
For many matriculants from disadvantaged backgrounds tertiary studies seem like an impossible dream. However, if you don't have the financial means to fund your own studies you can apply for a loan from the National Student Financial Aid Scheme (NSFAS).
NSFAS study loans are meant for students who cannot pay for their own studies and/or cannot access bank funding, other study loans or bursaries.
The four students highlighted below are among those who dared and won with NSFAS.
Maluta Nnditshedzeni (Eric)
Eric was born in a remote rural village called Mafukani, Limpopo Province and was the fifth born in a family of six siblings. His father was the only bread winner in the house and when Eric matriculated, it was hard for his father to fund his tertiary studies. My older siblings were all working to help my father pay our family bills.
Eric decided to speak to the NSFAS administrator at the University of Limpopo at the Turfloop campus and explained his situation. "I started using NSFAS from my first year in 1998 until my third year to complete my BSc Degree in Physics and Mathematics. In 2000, I graduated and then registered for a BSc Honours in Physics and received the NRF honours bursary. After finishing my honours in 2001, I joined the University of Venda (Physics Department) in 2002 to work as a Laboratory Technician. I started paying back the NSFAS loan and finished paying back the full amount in October 2008. The major advantage of the NSFAS loan is that if one is performing well academically only 60 per cent remains as a loan and the remaining 40 per cent is converted into a bursary. Hence one has to pay only 60 per cent of the loan each year provided all the registered courses are passed," he explained.
After completing his Master's degree, Eric applied for funding and obtained the Ford Foundation Fellowship to pursue his PhD. "It doesn't matter where you come from and I Thank NSFAS for the support without which I would not have come this far in my academic and professional career."
Mpho Mogobo
If you had met Mpho Mogobo in the 1980's there is a good chance that you would have found her barefoot and out in the fields herding cattle in rural Limpopo where she grew up. At any given time there would be up to 15 people in her tiny home in Seshego and as a result, young Mpho often went about her day on an empty stomach as food was a scarce commodity.
The grim reality of going to bed hungry and not having shoes to walk the distance to school each day only drove Mpho to strive for a better education. "I wanted more, and thus a family friend who was studying told me that I had to work harder than an average person to get where I wanted to be," she says. As a result, Mpho spent most nights studying by candlelight and many afternoons in the library so that she would achieve good results. 
After matriculating in 1999, and with no money, Mpho heard about the National Student Financial Aid Scheme and qualified for a loan to pay for her studies in accounting. At 19, she became the first member of her family to graduate from university. But this in itself was still not enough.
Mpho persevered and in 2006 she started her articles. In 2008, she joined the Thuthuka Programme through SAICA (The South African Institution of Chartered Accountants) and completed both her QE1 and QE2 examinations, ranking in the top 10 of her class. What seemed impossible to some became a reality to Mpho, who is now a qualified chartered accountant. She is presently employed at Wesbank as a Financial Specialist.
Isaah Alexy Mhlanga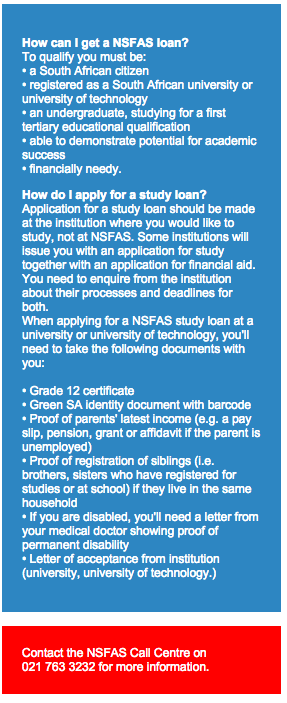 Isaah Alexy Mhlanga graduated with honours from the University of Johannesburg's Department of Economics and Econometrics. While studying, he came third in the Nedbank and Old Mutual Budget Speech competition and had an opportunity to meet former Finance Minister, Trevor Manuel. But it hasn't always been easy. 
"I knew that my father couldn't afford university fees, so my matric results had to get me in," he explains. "My duty was to study hard. In the end, I matriculated with straight As." In his matric year, Isaah participated in Pro Maths in Dobsonville, a programme sponsored by Investec Bank's CSI department. His excellent results soon got the attention of the CSI head of Investec Bank, Setlongane Mancidi, who made it a point to offer Isaah a bursary.
The bursary he received was administered through one of the partner organisations of NSFAS, namely Study Trust. NSFAS was therefore further able to assist Isaah with his study-related costs to complete his undergraduate degree. 
Today he is employed as an economist for the International Monetary Fund. I want to make people richer and myself wealthy in the process," he says. Isaah's advice to young people: "If you can't afford to study, that's not a train smash. Work like there is no tomorrow. Get those results - good results - and don't give up. Do your research and apply for bursaries or financial aid as early as you can. Be positive - if you have a brain and you use it wisely, you're bound to succeed."
Langelihle Nkosi
In 2005, Langelihle Nkosi stood on the verge of an exciting career when he graduated as Civil Engineering Technical from Mangosuthu University of Technology. Looking back, he continues to be grateful for the opportunity to study further and better his future, for himself and his family, who strugglingto make ends meet.
Since he didn't have money to pay for tertiary studies, he applied for funds from the National Student Financial Aid Scheme (NSFAS) and was successful - one less burden for his family to worry about.
Langelihle could now dream of making something out of life. His course in Engineering also gave him hands-on experience in the industry and while he was completing his studies he had the opportunity to work in the field for Umzinyathi Construction as well as Thekwini GeoCivil Engineers. He then joined public works in 2007 as Chief Works inspector in KwaZulu Natal and at the end of 2008 he ventured into the role of Project Manager for the Department of Works in Pietermaritzburg.
Today Langelihle owns a flat in Durban and drives his own car. He has realised that education can open up many doors and also encouraged his youngest sibling to apply for NSFAS funds for his studies. "And I say thank you to NSFAS for their help!"
-Samona Murugan