Government priorities
Court cases dragging on for months will soon be a thing of the past, as efforts to speed up the finalisation rate start yielding results.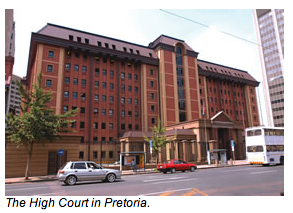 "The country-wide situation regarding the outstanding and backlog cases per court level has continued to improve," said Justice and Constitutional Development Minister Jeff Radebe.
"Engagements are underway between the Chief Justice and the heads of court to ensure that norms and standards are used throughout the country in driving and improving performance in courts," he said.
Reducing backlogs
"As at the end of December 2011, we had succeeded in reducing the backlog numbers to the lowest number of backlog cases 32 902 (15,9 per cent) in the past five years."
For the period April to December 2011, 327 818 cases were finalised. The high courts had an average conviction rate of 84,4 per cent (752 cases); the regional courts 74,2 per cent (21 886 cases) and the district courts 90,5 per cent (185 884 cases).
To increase capacity in the courts, a total of 134 new prosecutors, who recently graduated from the Justice College, will be deployed throughout the country.
To further minimise delays in finalising court cases, the Office of the Chief Justice has initiated a process of case-flow management, as well as a process to set uniform norms and standards for the judiciary.
Getting the flow going
Additional measures now in place to assist with case-flow management include:
a High Court Case-Flow Management Structure chaired by Judge President Mthiyane
a Lower Court National Integrated Case-flow Management Committee led by the Regional Court
provincial integrated case-flow management  forums are also in place, with most of the forums led by either the Judge Presidents of the provinces or the Regional Court Presidents
A case-flow management workshop with all lower-court stakeholders took place on 1 March to ensure interaction between regional and national case-flow management structures.
Partnerships
Meanwhile, Minister Radebe said the strengthening of partnerships within the Criminal Justice System would remain a priority this year.  He said these partnerships would include communities, role players within government, business, interest groups, media, municipalities, religious and youth formations, as well as international law enforcement agencies.
"As part of improving service delivery, we are in the process of reviewing our 10111 operations to ensure the efficiency of the system. This may include the revised deployment of resources in order to make the system more effective," he said.
In the meantime, high-tech equipment, vehicles and other tools procured during the 2010 FIFA World Cup continue to be used to safeguard all people within the country.
-BuaNews