The success of the FIFA Confederations Cup held in June this year, has showed the world that South Africa is ready to host the 2010 World Cup. The 2010 Mass Mobilisation Programme played an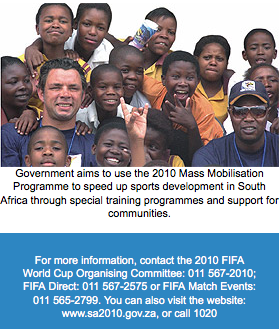 important role in creating a positive mood among South Africans during the tournament and beyond.
The 2010 Mass Mobilisation Programme aims to ensure that all South Africans are part of the 2010 FIFA World Cup excitement. It encourages and supports communities throughout South Africa to participate in sport and makes them aware of the benefits of sport. It also aims to ensure that people living outside the host cities do not feel left out.
Base camps
The programme includes road- shows to all the provinces. The road shows focus on non-hosting municipalities. This means they have not been chosen to host the 2009 Confed Cup and are not hosting the 2010 World Cup.
But these municipalities also have an important role to play. Some of them will serve as base camps for countries that participate in the 2010 World Cup. Participating teams will use facilities like accommodation and training stadiums.
During the roadshows, a publicity bus travels to the identified sites to create awareness about the World Cup.
The 2010 Ambassadors and the 2010 FIFA World Cup official mascot, Zakumi, also give out information about the tournament. The programme targets youth in all nine provinces, with 40 per cent of the participants being women.
So far, former football stars, who are now 2010 Ambassadors like Phil Masinga, Mark Fish and Desiree Ellis, have presented coaching clinics for young people during the road shows.
Activities of the programme also include life skills and coaching clinics for at least 290 coaches.
Partnership
The Mass Mobilisation Programme roadshow is a partnership between government, represented by the Department of Sports and Recreation, and the 2010 FIFA World Cup Organising Committee.
- Mbulelo Baloyi