"Ask not what your country can do for you, but what you can do for your country." These words by former United States President, John F Kennedy, ring true as South Africa is getting ready to host the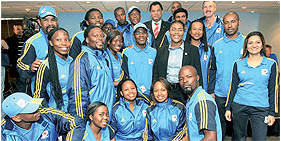 2010 FIFA World Cup. Volunteers will be the face of the tournament giving their time and service to their country.
The success of the 2009 Con-fed Cup has created a positive mood among South Africans. Many are feeling more patriotic about their country. Part of this success was due to the important role played by volunteers during the tournament.
Best ever
"South Africa will rely heavily on the services of volunteers to make the World Cup a success," said Dr Danny Jordaan, 2010 FIFA World Cup Organising Committee Chief Executive Officer.
"During the FIFA Confederations Cup, volunteers did an outstanding job, and we expect them to improve on their strengths to make sure that we host the best world cup ever," he said.
Make things happen
Volunteers play a very important role in making things happen - from taking people to their seats, to helping the media and foreign language speakers, welcoming people at the airport and driving guests around.
There was a total of 4 000 local volunteers during the 2009 FIFA Confederation Cup. It took place at four different host cities and involved eight countries.
Applications for the 2010 FIFA World Cup Volunteer Programme opened on 20 July and closed on 31 August 2009. The aim was to sign up 15 000 volunteers for 2010. The response was overwhelming with more than 15 000 applications received on the first day.
Worldwide
Altogether 32 countries, including South Africa, will be represented at the World Cup. The tournament will be played at 10 stadiums in nine cities.
The Volunteer Programme was open to everyone worldwide, but the majority of the volunteers are from South Africa. Ten per cent were chosen from other African countries, while another ten per cent are from the rest of the world.
Training
Volunteers will be trained in different service areas. These include things like marketing, media, receiving important guests, welcome and information services, transportation, administration, IT, telecommunication services and language support.
Volunteers will be trained in March and April next year in the nine host cities. They will not be paid a salary for their work, but will get an allowance for travel expenses. They will also get meals on the days when they work. In addition, volunteers will get certificates of acknowledgement for their service.
- Mbulelo Baloyi