"I studied medicine because I was passionate about it and have always loved helping people." These are not just empty words from Bongani Mahlangu. A study loan from government gave him an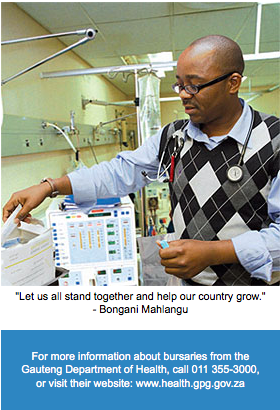 opportunity of a lifetime to study medicine in Cuba. He is now committed to serving the people of South Africa in the public sector, because it is the tax payers' money that helped him to become a doctor.
Bongani Mahlangu was born on 22 July 1977 in Soweto. The family was poor and he had a hard life, but he sees nothing extraordinary about how he grew up. He said his life in Soweto shaped who he is today.
"My life was not different to any other child in Soweto. The challenges were there and I had to face them," Mahlangu said.
Life-long dream
He went to many different schools, because the family was always moving from one area to another. "I finally finished school in Kwa-Ndebele, " Mahlangu said.
After finishing school, he completed a certificate course in business and office management. But he wanted to study for a degree and registered for civil engineering at the then Technikon SA. He had to work part time to pay for his studies.
In September 1999, his life-long dream came true. "I saw an advert in a newspaper. The Gauteng Department of Health advertised bursaries for disadvantaged youth to study medicine in Cuba," he said. "I thought I would never be selected as I didn't think I would meet the criteria."
He applied anyway and to his surprise he was one of the few who got the bursary. "It was an opportunity of a lifetime," he said.
Satisfaction
Mahlangu said his stay in Cuba was interesting, but it was sometimes hard for him because he missed home a lot.
He completed his studies and returned to South Africa in 2007. He now works as an intern at Natalspruit Hospital and wants to remain in the public sector even after his internship. "I believe I owe it to the people of South Africa to serve and help them. It is after all the tax payers' money which helped me to become a doctor," he said.
Passion
"People shouldn't do medicine for the fame and glamour of being a doctor. Medicine is for people with passion, who love helping other people," Mahlangu said.
"It is not about making money, it's the satisfaction of seeing patients' smile when they are released from their pain. Knowing that you healed people is what makes a doctor sleep better at night."
Mahlangu says he wants to study further and become a medical engineer. He vows that even after that he will stay in the public sector to serve the people of his country.
His advice to youth is: "With all the opportunities available for youth, the sky is the limit. Let us all stand together and help our country grow."
- Carol Netshifhefhe